"I bought 3 diamonds from you when you were in the business. One for my wife's engagement ring and 2 for earrings. I am considering getting her a diamond necklace. If her engagement ring is ~1 carat, what is your opinion regarding the size of the diamond for the necklace. You sold me many years on the wisdom of buying diamonds which are AGS ideal or GIA excellent and I plan to buy a high quality diamond. I wish you were still in the business. I have rarely had such a positive experience as I had buying diamonds from you. My friends thought I was crazy for buying online, but you gave me the confidence to do so. Any help on my issue would be greatly appreciated. Thanks!" ~ Tony L.
Thank you so much for your kind words Tony, they mean a lot to me… truly!  It was a difficult decision to convert Nice Ice from a direct seller of diamonds to promoting diamonds for other companies, but it has been wonderfully liberating in terms of enabling me to work from anywhere in the world without being tied to one location to manage inventory… and it gives us access to the best that every online dealer has to offer! Although admittedly I tend to focus more on the diamonds from Brian Gavin and High Performance Diamonds because we think alike when it comes to diamond cut quality… perhaps that's why they were my top competitors!
There isn't really a formula with regards to selecting a diamond for a diamond pendant in terms of the relationship to the size of the diamond in the engagement ring, but I'd say that something in the range of 0.75 – 1.25 carats is a good place to start.  Of course, you could always upgrade the size of the center stone in the engagement ring and move it up into a pendant… it just depends on how much money you want to dedicate to this project.
I will state that I like to remain consistent in my selection process when choosing diamonds for engagement rings, diamond earrings and diamond pendants, because light return and visual performance is always a key factor.  Thus I focus on the overall cut grade of the diamond, as well as the proportions and indexing of the facet structure which can be judged by viewing the diamond through an ASET Scope, Ideal Scope and Hearts and Arrows Scope as I have done with all of the diamonds discussed here because the vendors make these images readily available on their diamond details pages. Here are some options that meet my selection criteria which will help you fine tune things: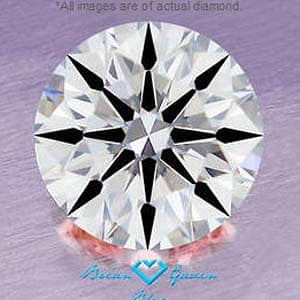 0.706 carat, I-color, VS-2 clarity, round brilliant ideal cut diamond from the Brian Gavin Blue collection with very strong blue fluorescence which will help the diamond face up whiter and glow a really pretty neon blue color when the diamond is exposed to black light.  I don't know whether we've discussed fluorescence before, but practically all of the diamonds which I've owned personally over the years have exhibited blue fluorescence because I think it's pretty cool.  So this diamond has the same proportions as the diamonds we sold at Nice Ice and has an overall cut grade of AGS Ideal-0 on the Platinum Light Performance grading platform which means that the light return is going to be off the charts!  Plus I can tell from the ASET image on the lab report that the facet structure of the diamond has been indexed properly with minimal Azamet Shift and thus the Visual Performance (sparkle factor) of the diamond is going to be equally as impressive!
Needless to say that I'm only going to be showing you diamonds which meet my selection criteria and it is still the extremely strict selection criteria that I used when I was buying diamonds for Nice Ice.
Moving up in carat weight, we have this 0.903 carat, G-color, VS-2 clarity, Hearts and Arrows Diamond from Brian Gavin to consider, which has an overall cut grade of AGS Ideal-0 as determined on the Platinum Light Performance grading platform, and the diamond exhibits a crisp and complete pattern of Hearts & Arrows. The proportions are right where I like them to be… a total depth of 61.7% with a table diameter of 56.7% with a crown angle of 34.9 degrees which is offset by a pavilion angle of 40.9 degrees with a thin to medium, faceted girdle and a pointed culet. And the inclusions are just a bunch of diamond crystals, you really can't go wrong with a diamond like this!
This 0.94 carat, G-color, VS-2 from Crafted by Infinity via High Performance Diamonds is definitely worthy of consideration!  This is another AGS Ideal-0 cut diamond which exhibits a crisp and complete pattern of Hearts and Arrows, but I feel the need to point out that the photographer at CBI didn't do a very good job of aligning the diamond on the platform before taking the picture… this was the topic of a rather in-depth discussion with the folks from Crafted by Infinity at the JCK Trade Show last week because it drives me nuts that they cut such beautiful diamonds and then blow the presentation with sloppy photography… what can I say, they're diamond cutters, not photographers and I have to give them a little credit just for trying.
Another diamond which I really like from Crafted by Infinity is this 1.09 carat, G-color, VS-2 clarity, Hearts and Arrows round brilliant ideal cut diamond from High Performance Diamonds.  I used to purchase a lot of diamonds produced by Crafted by Infinity and then sell them under our Nice Ice label because their production quality is simply amazing… to the extent that I have never rejected a single Crafted by Infinity diamond for diamond cut quality, light return or visual performance! That is actually much more impressive than it sounds because my average rejection rate for zero ideal cut diamonds when I was the buyer for Nice Ice was around 40%.  Brian Gavin is another cutter who's production had impressive passing rates, which is why this page is pretty much dedicated to their production since you're an existing client with high expectations since you know what Nice Ice is supposed to look like!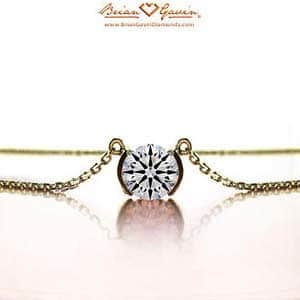 By the way, I think that this hand crafted, half bezel design from Brian Gavin is pretty cool. It would look phenomenal with any of the diamonds which I've mentioned thus far, but I imagine that this 1.164 carat, I-color, SI-1 clarity puppy from the Brian Gavin Blue collection would look amazing in it. The very strong blue fluorescence is going to help keep the diamond looking white and the diamond cut quality is outstanding because it was produced on the same production line as Brian's Signature Hearts and Arrows diamonds.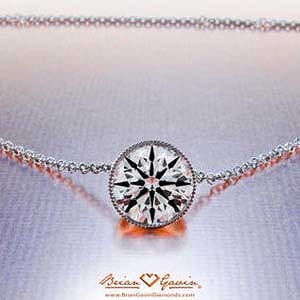 This hand crafted, platinum, bezel pendant with a hand applied milgrain edge from Brian Gavin is another favorite of mine and it would look phenomenal set with this 1.173 carat, I-color, SI-1 clarity, Hearts and Arrows Diamond from Brian Gavin or this 1.223 carat, I-color, VS-2 clarity, Hearts and Arrows Diamond from Brian Gavin.  Both diamonds have an overall cut grade of AGS Ideal-0 and exhibit a crisp and complete pattern of hearts and arrows, which means that they'll sparkle enough to blind you… perhaps you should buy yourself a new pair of sunglasses before you open the box.
What? What's that? Ohhhh… the Talking Heads from the Legal Department would like me to say that it is highly unlikely that you will actually be blinded when you open the box and look at any of these diamonds, however that we assume absolutely no liability whatsoever on the off chance that temporary, or permanent blindness occurs, and that we're not responsible for any actions which you may or may not take on the basis of any recommendation(s) made herein, and that you should conduct your own due diligence before purchasing a diamond, and wear all necessary safety equipment, and take appropriate precautions when reading about, and/or ordering and/or handling diamonds.  Let me know if you'd like me to expand this page with additional options, and/or provide you with some recommendations for sunglasses.