I love cape diamonds, so I'm excited that the Brian Gavin Cape Series is finally available. I've been waiting for this day for several months now with bated breath.
Consequently, that's how long ago Brian told me that he had begun to buy Cape color rough to produce a new line of Brian Gavin Signature round diamonds!

Do you have any idea how hard it is for me to keep a secret? Especially one of this magnitude? Imagine every time somebody mentioned to me that they were looking for a diamond of warmer color to set in a rose gold ring.
I had to sit there biting my tongue and take a swig of coffee to keep myself from blowing it. Finally, the day is here! I don't have to think before I speak!
I know, I know, I just handed my friends who read this blog the equivalent of a loaded gun: "Todd. Think. Speak. Impossible."
The concept truly IS amazing, isn't it?
Setting that concept aside for a moment, I think that you're going to LOVE the new Cape diamonds featured in this spectacular collection of Brian Gavin Cape Series Signature Diamonds.
The Historic Appeal of Cape Color Diamonds: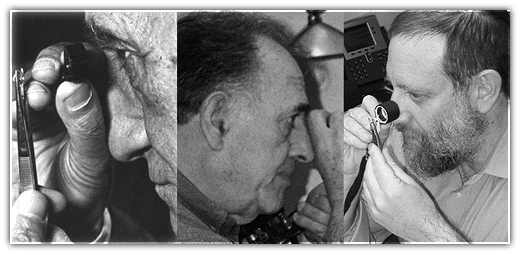 The odds are that you probably aren't familiar with the term cape diamonds, but it does mean something to those of us who have been in the diamond business for a long time.
Fifth-generation diamond cutter Brian Gavin has fond memories of watching his father and grandfather cut cape diamonds. It is in celebration of those memories that Brian Gavin proudly announces the introduction of the Cape Series Collection of Brian Gavin Signature diamonds.
Most people are familiar with the diamond color grading scale implemented by the Gemological Institute of America in 1931. However, prior to its introduction, diamond colors were referred to by the origin of the diamond rough.
Historical Descriptions for Diamond Color Grades:
Top color grades that appear colorless against a white background used to be known as Jager and River. However, those bright white diamond are now referred to as D-E-F color. These color grades later became known as the finest white and fine white.
The modern color grades of G-H-I color, were originally known as Top Wesselton, Wesselton, and Top Crystal. Which was also known as fine white, white, and commercial white for awhile. The modern-day J-K color diamond was originally referred to as Crystal, Top Cape, and then Top Silver Cape. Terms that seem a bit more romantic than their alphabetical counterparts.
L-color was also included in the Top Cape category. However, most people really consider the Cape Diamond classification to begin at M-color because that is where diamonds begin to appear warmer in tone. M-N color diamonds were originally known as Light Cape Diamonds. And diamonds that are warmer in tone, such as those in the O-R color range were simply known as Cape Diamonds. Whereas diamonds in the very light yellow range of R-Z color were known as Dark Cape Diamonds.
Historical Diamond Color Reference Chart: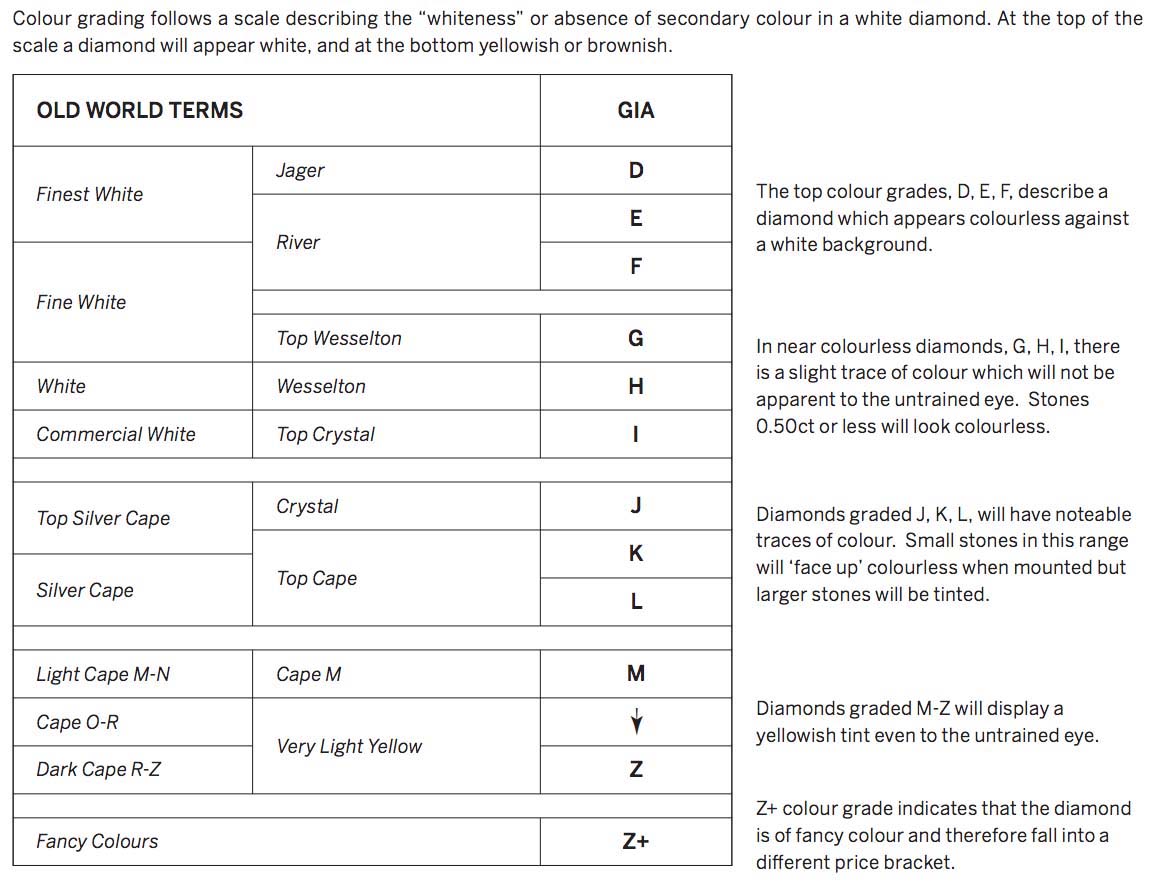 This color reference chart is provided courtesy of Sotheby's Hong Kong Division.
The Origin of Cape Diamonds:
The origin of Cape Diamonds goes back to the discovery of the diamond fields that existed in Cape Town, South Africa. The discovery of those diamond fields in 1867, gave rise to a booming diamond-based economy. According to The History of Cape Diamonds, diamond production in the region literally grew tenfold over the next ten years! The British Cape Colony experienced record growth as a result.
Diamonds that originated from the British Cape Colony in South Africa were initially known as Cape Diamonds. However with the passage of time, the term Cape Diamonds became synonymous with all diamonds in the faint yellow to yellow color spectrum. The origin of diamond rough ceased to be a contributing factor of diamond color.
According to an article written by Modern Jeweler Magazine, a jeweler in London, named Edwin Streeter, devoted an entire chapter to the momentous discovery of Cape Diamonds in his book "Precious Stones" circa 1884. The article also indicates that another London-based jeweler named W.R. Cattelle, used the term "Cape Diamonds" to describe diamonds with a slight to pronounced yellowish cast.
So basically over the course of a twenty-year period, the term cape diamonds went from referring to the origin of diamond rough, to refer to any diamonds that fall into the spectrum of light to dark yellow. There does not seem to be a record of why the transition from origin to diamond color occurred.
Suffice to say that the term cape diamonds now refers to the color spectrum exhibited by a diamond, and not its origin. Brian Gavin Cape Series Diamonds are not necessarily produced from diamond rough that originates in South Africa. To be more specific, Brian Gavin Cape Series diamonds represent a specific range of diamond colors commonly known as cape.
Brian Gavin Cape Series Reviews: AGS 104081952004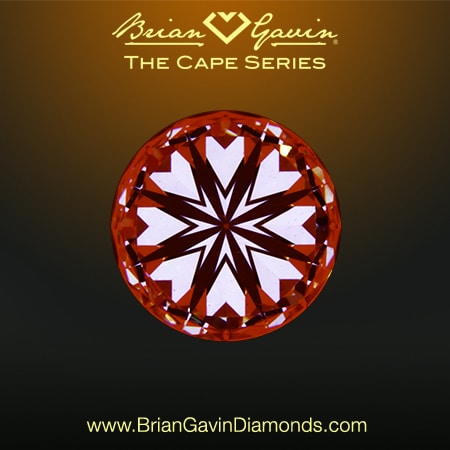 The hearts pattern exhibited by this 2.087 carat, R-color, VS-2 clarity, Brian Gavin Signature Cape Series diamond is spectacular! Right on par with every other Brian Gavin Signature Hearts and Arrows round diamond that I've ever seen!
The rich, warm, golden yellow color is clearly visible in the high-resolution video provided on the diamond details page. There is no need to guess about how the diamond is going to look. The color is clearly visible in the video and clarity photographs.
This diamond will look spectacular set in 18k rose gold or 18k yellow gold. In fact, the color of the pink or yellow gold will reflect throughout the diamond. Giving it an even richer, warmer appearance. And where else can you pick up a two carat diamond for under $13K?
Especially one that is going to be eye-clean from a top-down perspective. Don't give the diamond color a second thought, because what your friends are going to notice most is the spectacular volume of light return and the incredible sparkle!
I'm not saying that your friends might not notice the warmer color of your Cape Diamond. The fact of the matter is that I hope that they do notice the color because this diamond is going to look spectacular! At the same time, the diamond cut quality and an incredible degree of optical precision are additional factors that contribute to the beauty of this diamond.
Brian Gavin Cape Series Reviews: AGS 104082557001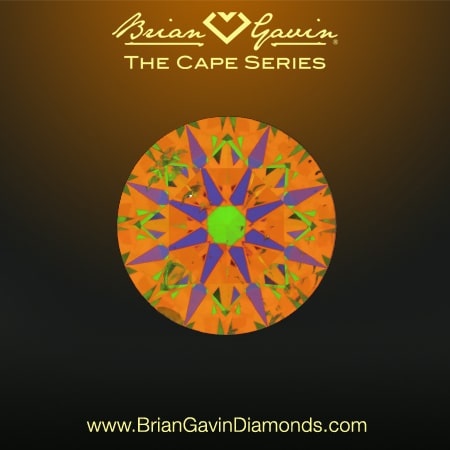 This cape diamond from Brian Gavin weighs 1.704 carats, and is SI-2 in clarity, and P-color. It costs just a little more than $7K which is absolutely amazing given the fact that it is going to make one heck of an impression!
Just look at the ASET image provided for this beauty. All of that red means that the diamond is going to be nice and bright! It means that the diamond is designed to pick up and reflect back the brightest light that is available to it from within the room! Green represents the second brightest light in the room.
That green spot in the center of the diamond is nothing to be concerned about. I explain all of this in the article What do the different colors of an ASET mean? The blue arrows indicate that the diamond exhibits great contrast brilliance.
This diamond is blessed with a sparkling personality that people will notice from across the room! And when they ask about your diamond, you can proudly tell them all about the special nature of cape diamonds!
Brian Gavin Cape Series Reviews: AGS 104082557003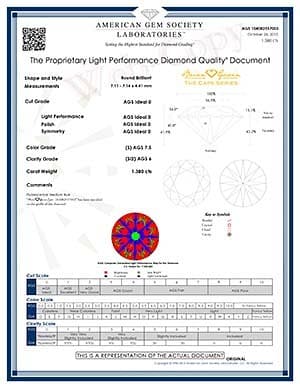 The last of the Cape Diamonds that I'm going to review today is this 1.380 carat, S-color, SI-2 clarity, Cape Series Brian Gavin Signature round diamond. There are plenty of other options available, but I don't see a need to run through every one of them.
That's because all of the diamonds featured in the new Cape Series by Brian Gavin are cut to the same standard of all Brian Gavin Signature round hearts and arrows diamonds. In the first place, all Brian Gavin Signature diamonds have an overall cut grade of AGS Ideal-0. Plus, they exhibit a crisp and complete pattern of hearts and arrows.
That's because they've all been cut to proportions that represent the center 'sweet spot' of the zero ideal cut proportions rating. Thus you don't really need to decide whether or not to buy a Brian Gavin Signature diamond. You only need to decide which BGD Signature diamond fits your personal preferences.
Brian Gavin takes the guesswork and stress out of buying a diamond online. That's because every diamond he produces is going to exhibit the highest volume of light return and sparkle factor. The images provided on the diamond details page ensure that you know exactly what the diamond is going to look like.
Free Diamond Concierge Service: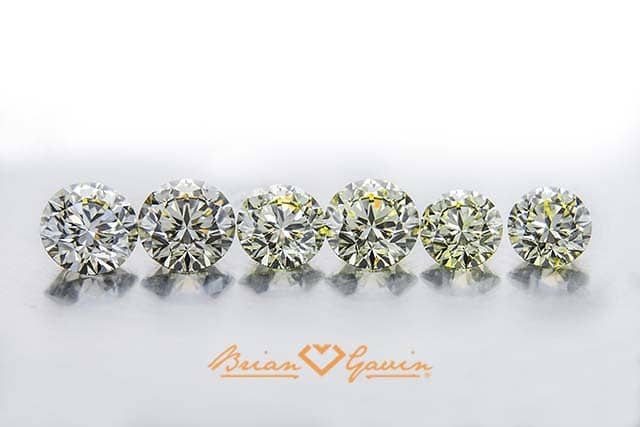 I hope that you enjoyed this article on cape diamonds and found it enlightening. Please tell Brian Gavin that you heard about the new Brian Gavin Cape Series Signature Diamonds on Nice Ice. I invite you to take advantage of my free Diamond Concierge Service if you'd like help finding the diamond of your dreams.
Whether you're interested in Cape Diamonds, or diamonds that are whiter in color, I'm always here to lend a helping hand. Take advantage of my 30+ years of experience buying diamonds for the trade and take the guesswork out of buying a diamond online. Of course, you don't really need my help buying a Cape Series Diamond from Brian Gavin, they're spectacular!