"I'm looking for a 3 stone diamond ring from Brian Gavin, but don't know which ring style to choose. I don't want to ask my girlfriend which ring style she prefers,because I'm trying to surprise her. We've been together for more than 3 years, so it's not like my proposal will to come as a surprise. But I really want to create that special moment and catch her completely off guard."
"She's been dropping hints like crazy and leaving bridal magazines all over the house. Thankfully she dog-ears all the pages so it's easy to see which rings she likes! Most of the ring she likes are three stone rings, some with pear shape accents and others with tapered baguettes. Which ring style should I choose? Please make some recommendations for a center stone that will keep me around ±14K."
3 Stone Ring w/ Pear Shape accents: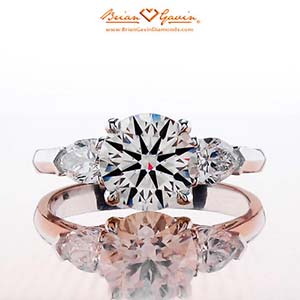 I've got to admit that I'm partial to the Summer 3 stone ring by Brian Gavin. I really like the way that pear shape diamonds look alongside a round diamond. Both shapes feature round outlines and that seems to perfect the transition between the two diamond shapes. The natural taper of this ring style has a real slimming effect upon the finger.
Most 3 stone pear shape ring styles are bulky and awkward, but the design of this ring flows perfectly. The lines of the ring are sleek and smooth, elegant and sexy like a Porsche 911. I've seen this ring in-person and really like the way it feels and looks on the finger. The ring features an open basket-style design and 2 pear shape diamonds weighing about 0.40 carats total weight. Brian Gavin will match the pear shapes up for you, they'll be VS in clarity and F-G in color.
[maxbutton id="4″]
3 Stone Ring with Tapered Baguette Accents: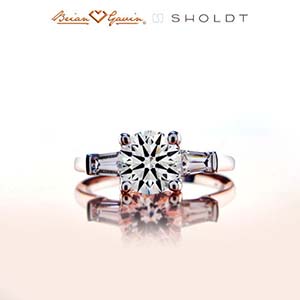 All right, I'm going to admit that I'm partial to the 3 stone diamond ring with pear shape accents. I personally prefer pear shape accents to tapered baguettes, but it's not my ring… I just think that the pear shape diamonds flow better with a round brilliant cut center stone. But if you think she might prefer a 3 stone ring with baguette shape accents, then I'd go with the Sasha by Sholdt.
The tapered baguette shape accent stones still create a nice slimming look upon the finger. But you can see from this picture that the transition between the two shapes does not seem as smooth. I'm actually more likely to select this ring style for a pear shape center stone instead of a round. This is of course a matter of personal preference and different ring styles appeal to different people. You're lucky because she likes both ring styles, you can't go wrong!
Picking a center stone for a 3 stone ring: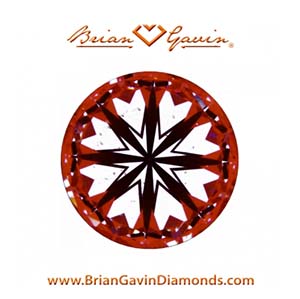 While it's important to pick just the right ring style, choosing the right diamond is also critical to your success. This 1.232 carat, G-color, VS-2 clarity, Brian Gavin Signature round hearts and arrows diamond is the perfect choice! This spectacular hearts and arrows pattern is proof that the optical precision and diamond cut quality is top notch!
The diamond has an overall cut grade of AGS Ideal-0 which is the highest rating available from the AGS Laboratory. The 40.8 degree pavilion angle will produce a high volume of light return. While the 34.8 degree crown angle produces a virtual balance of brilliance and dispersion. The combination of the 76% lower girdle facets and optical precision will produce broad spectrum sparkle. What does all of that mean in English? "The future's so bright, you're going to need shades!" Be sure to buy a new pair of sunglasses…
[maxbutton id="4″]
P.S. I sent you a special subscriber only Brian Gavin Diamonds Coupon Code via email that will save you some money on your 3 stone diamond ring! Every little bit helps, right? Reading this blog post and want one? Send me a request via my free Diamond Concierge Service.
P.S.S. Looking for more inspiration? Be sure to follow Brian Gavin on Instagram!