Brian Gavin Diamonds launched a stunning new collection of engagement rings and wedding rings today called The Lace Collection, which features solitaire style engagement rings covered in a woven pattern of "lace" and adorned with tiny colored gems, such as Green Tsavorite, Pink Sapphire, Blue Sapphire, and White Diamonds, which are available in 18k rose gold, 18k yellow gold, 18k white gold, and platinum. The first thought that came to mind when I saw the collection was that these are going to be fun to mix and match! Imagine how much fun your fiance would have changing wedding bands to match her outfits!
And that should be pretty easy to do since all of the rings from the Brian Gavin Lace Solitaire Collection are available with green, pink, and blue accents. This means that you can order a matching band in the future with different color accents and present it to your wife as a "thoughtful surprise" for a birthday present, anniversary gift, or any other special moment, and if you're a guy like me, it's great not to have to wrack your brain trying to come up with something that is going to be this impressive and appreciated.
Now if you're thinking "Todd, you've lost your mind… those wedding bands are $1,825.00 each, I can't afford to buy her one in every color…" I just want to point out that this breaks down to about $150.00 per month, and if you're fiance is anything like my girlfriend, she's going to spend hours staring at the rings on her hand and thinking about how thoughtful you are, and what great taste in jewelry you have… so at some point in the future when you just happen to pop up with another ring in a different color, you can bet that the gesture is going to go a long way towards keeping her happy and letting her know that she's important to you… and if she's happy, you're happy, I'm just saying…
Which alloy should you choose for an engagement ring?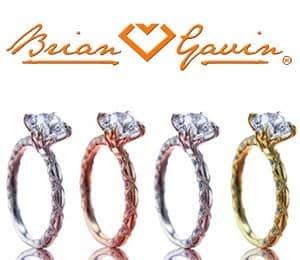 The choice to go with rose gold, yellow gold, white gold, or even platinum (which is not gold) is most often decided based upon a personal preference in terms of the color and how it looks upon the skin of the person who is going to be wearing the ring. However the choice of which metal to select for an engagement ring can also be affected by the color of the diamond which is going to be set in the ring. For instance, I really like the look of diamonds in the colorless range (D-E-F) which face-up somewhat cooler in tone, when they are set in white metal, such as white gold or platinum.
So I think that this 1.225 carat, E-color, SI-1 clarity, Brian Gavin Signature diamond would look absolutely amazing set in one of the Brian Gavin Lace Solitaires in 18k white gold or platinum, like this 18k white gold Lace Solitaire with pink sapphire accents.
If you happen to be partial to diamonds with blue fluorescence like I am, then you might choose something like this 1.207 carat, F-color, VS-2 clarity, round brilliant ideal cut diamond from the Brian Gavin Blue collectionn. It exhibits medium blue fluorescence when exposed to black light and will look simply stunning set in this platinum Lace Solitaire with blue sapphire accents!
I also like the way that certain colors of diamonds in the near-colorless range (G-H-I-J) look when set in white gold or platinum, specifically G-H and I-color, but prefer diamonds in the warmer tones such as J-color and those which are faint yellow, such as K-L-M-N colors when set on rings which are yellow gold or rose gold, because I think that those colors are a little warmer in tone and benefit from being seen against metal of a warmer hue. This is of course a matter of personal preference…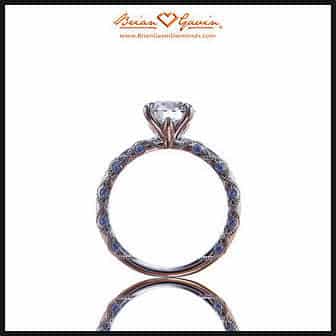 With this in mind, if you're looking at a center stone such as this 1.013 carat, G-color, VS-2 clarity, Brian Gavin Blue diamond with medium blue fluorescence, I think that it would look great set in a ring which is white gold, yellow gold, or platinum… thus you could go with something like this Lace Solitaire with Blue Sapphire accents set in Platinum or set it in 18k yellow gold and it will look equally stunning! One thing to note is that the prongs on these rings are the same color as the rings, so if you order the ring in yellow gold, the G-color diamond is going to pick up the color of the setting as it reflects into the diamond off of the prongs.
The odds are that the effect of the yellow gold prongs will be to alter the perceivable color of the diamond by about one color grade, so a G-color diamond will face-up more like an H-color diamond, that is if you're scrutinizing the ring and happen to be color sensitive enough to pick up on the subtle difference in color… most people won't notice this, but I feel that it is worthy of mention since it is something which somebody who is extremely color sensitive might pick up on.
Now this also means that the appearance of diamonds in the warmer tones, such as those in the range of J-color and warmer (K-L-M-N) will be enhanced by being set in 18k yellow gold or 18k rose gold prongs… so this 1.078 carat, J-color, VS-2 clarity, Brian Gavin Signature diamond would look incredible set in this 18k yellow gold Brian Gavin Lace solitaire with Green Tsavorite accents, and this 1.150 carat, K-color, VS-2 clarity, Brian Gavin Blue diamond with medium blue fluorescence would look incredible set in this 18k rose gold Lace Solitaire with pink sapphire accents!
Brian Gavin Signature Cushion Cut Diamonds: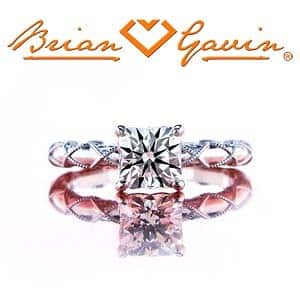 Of course the Brian Gavin Lace Solitaire is also available as a setting option for the Brian Gavin Signature Cushion cut diamond, as can be seen pictured to the left in platinum.
I've had my eye on this 1.496 carat, F-color, VVS-2 clarity, Brian Gavin Signature Cushion cut diamond with medium blue fluorescence for a while. It represents a great value because it falls just short of the 1.50 carat mark and thus you get the look of a 1.50 carat diamond without paying the price increase that occurs between the 1.49 – 1.50 carat marks!
There are quite a few VVS clarity Brian Gavin Signature Cushion cut diamonds available to choose from, just Search Brian Gavin's Diamond Inventory to see all the options.
I'm not really sure how long he's going to continue this promotion on VVS clarity diamonds, but I imagine that it's going to end sometime before the end of the month based on a conversation that we had. And by all means, feel free to take advantage of my free Diamond Concierge Service if you have any questions, or would like help finding the diamond that is right for you!