In the text book Supply Chain Management, Sunil Chopra and Peter Meindl, ask readers what they think of Tiffany's decision to not sell diamonds online as part of the study questions provided on Page 107, at the end of Chapter 4. The book is intended to illustrate the key drivers of supply chain management and this particular chapter compares the online strategies of Blue Nile, Zales and Tiffany & Co. Jewelers. The authors point out that Blue Nile offers more than 30,000 diamonds priced at $2,500 and higher, while almost 60% of the products sold on the Tiffany web site are priced around $200 and then ask which product categories are best suited for the strengths of the online model of distribution. But my favorite question is "What advice would you give to each of the three companies regarding its strategy and structure?"
A college student ran this question by me earlier today and I thought to myself "Gift! And it's not even Christmas!" because being presented with the opportunity to compare the marketing strategies of diamond industry giants like Blue Nile and Tiffany, is like being asked to explain the difference in marketing strategy between the Mars Candy Corporation and Godiva Chocolate… they both sell candy, but each one serves a different segment of the market.
Let's face it, the person who hopes to Find the Perfect Engagement Ring on Blue Nile is most likely trying to find a beautiful diamond ring without incurring the incredibly high price tag imposed by Tiffany & Co., for what, if it were not branded and being marketed by Tiffany, might otherwise be considered to be comparable quality merchandise by many people.
Blue Nile claims to be the largest online retailer of GIA graded diamonds and a large number of those diamonds have an overall cut grade of GIA Excellent. Based upon my experience Secret Shopping Tiffany earlier this year, I don't feel that Tiffany is offering diamonds which are cut any better than the GIA 3X cut diamonds being offered by Blue Nile.
Why Doesn't Tiffany & Co., Sell Diamonds Online?
Since I don't sit on the Board of Directors for Tiffany & Co., I can only guess as to the reason why Tiffany does not sell diamonds online, but if I had to "guess" it would be that they realize that the average online diamond shopper is more knowledgeable and price savvy than their target market which seems to be largely comprised of people who want to be able to brag to their friends that they forked out an exorbitant amount of money to buy a piece of jewelry that is wrapped in Tiffany's Blue Box.
And I'm not saying that people who shop at Tiffany & Co., are not savvy, they simply tend to care less about price than the people who tend to shop for diamonds online. Generally speaking, we're talking about people from two different planets…
Most of the people who mention Tiffany Jewelry to me say things like "My girlfriend really likes the LOOK of the Tiffany Knife Edge Solitaire. Is there anybody who sells anything similar to it for less?" which implies that they are not actually trying to buy a Tiffany Knife Edge Solitaire, but rather are interested in buying something "like it" for less money… in which case, I'm going to direct them to this Tiffany Knife Edge Style Solitaire from Brian Gavin because it is similar, and it can be purchased with or without buying a diamond from Brian Gavin ~ Tiffany & Co., will not sell their solitaire without a Tiffany Diamond.
Since online diamond vendors like Brian Gavin sell what I consider to be diamonds of superior cut quality and optical symmetry for less than Tiffany & Co., and provide greater detail on their online diamond details pages, than I can ever hope to obtain by visiting a Tiffany jewelry store, it's pretty clear to me why Tiffany & Co., decided not to sell diamonds online…
Seriously… when I secret shopped Tiffany, most of the technical questions that I asked were answered with a rendition of "that's not really important because this is a Tiffany Diamond" (!) including "can you tell me about the inclusions within this diamond and show them to me?" since the diamond was graded by Tiffany and not an independent gemological laboratory.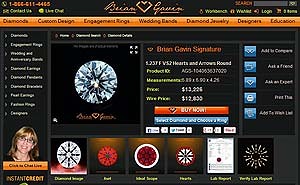 Now consider the difference between being told that the details about a diamond are not important "because it's a Tiffany diamond" with the level of detail provided for this 1.237 carat, F-color, VS-2 clarity, Signature Diamond from Brian Gavin, which includes a high resolution copy of the diamond grading report from the AGS Laboratory, a 3D video of the diamond, a clarity photograph, and a variety of reflector scope images.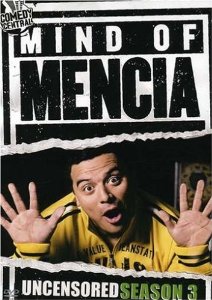 To quote comedian Carlos Mencia, you'd have to be "Dee Dee Dee" not to realize that the reason why Tiffany & Co., doesn't sell diamonds online is because they probably don't want to be held accountable to the higher expectations of savvy online consumers. But don't take my word for it, drop by your local Tiffany & Co., and ask the "diamond expert" behind the sales counter to explain the premise behind the Tolkowsky Ideal Cut Diamond, and then ask them how their diamonds compare to Tolkowsky's Diamond Design.  Follow that up with asking them to show you the inclusions within their diamonds, the images of hearts and arrows, an ASET Scope, an Ideal Scope, and tell me that you don't get told some rendition of "well this is a Tiffany Diamond" and then perhaps you'll understand that Tiffany & Co., doesn't try to sell diamonds online, because that would be dee-dee-dee stupid.
Come on, seriously… imagine that you're looking at the diamond details page of a detail oriented vendor like Brian Gavin, and comparing prices and cut quality with a reputation vendor such as Tiffany & Company.
Oh that's right… you couldn't actually compare the cut quality, because Tiffany & Co., doesn't actually provide that kind of detail… but imagine that they did.
Even though they don't.
Now imagine that you're comparing two diamonds graded by the same independent gemological laboratory, which are the same carat weight, color, clarity and overall cut grade…
Oh wait, you can't do that either, because Tiffany grades their diamonds themselves… so there is nothing independent about their gemological opinion about the diamonds which they are selling… it's like putting the fox in charge of the hen house, it's all good, it's a Tiffany Diamond "Trust Us"
Okay, just imagine that you're comparing two diamonds, which are the same carat weight, but which might be a grade or two different in clarity, color, polish, symmetry, proportions… wait! Does Tiffany & Co., even provide us with ratings for…
Now imagine yourself getting frustrated and saying "Oh I give up… I think that I'll just buy the Tiffany Diamond, because I really want that baby blue box! After all, it's a Tiffany Diamond! How bad could it be?"
Now that's an interesting strategy for marketing diamonds online…
Do I have advice for Tiffany about their strategy and structure? Um, yea… Stop being Dee-Dee-Dee and get into the game, today's market savvy online consumer, expects detailed diamond grading information, superior diamond cut quality, and optical symmetry and exceptional prices. Online buyers are looking to be recognized as having the brightest and most beautiful diamond in the room, not another blue cardboard box in their sock drawer.