Terry Staggs of Richmond, Kentucky, discovered a piece of champagne-brown colored diamond rough, weighing 2.95 carats, while visiting the Crater of Diamonds State Park in Arkansas.
Since he found the diamond on Independence Day, he named it the Patriot Diamond. Park officials say that it is the largest of 304 diamonds to pop up this year. The park is about 37.5 acres, so bring your walking shoes!
The Arkansas Crater of Diamonds State Park is reportedly the eighth largest diamond-bearing deposit in the world. It is the only diamond-producing site that is open to the general public.
What is super cool about this state park is that if you're lucky enough to find a diamond, you get to keep it… Park visitors find an average of two rough diamond crystals per day! Park staff provides free identification and registration of diamonds as they are found.
Crater of Diamonds Yields?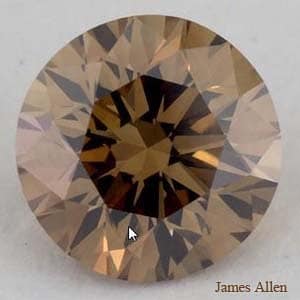 It will be interesting to see how the 2.95 carat piece of diamond rough shapes up in the hands of a diamond cutter. The diamond rough is champagne-brown in color and will forever be known as the Patriot Diamond.
This 0.91 carat, fancy dark yellow-brown, round brilliant cut diamond from James Allen exhibits the same range of color. However not every piece of diamond rough lends itself to becoming a diamond of this caliber.
The shape of the diamond rough dictates the shape of the polished diamond made from it. Other factors that contribute to diamond shape are the inclusions and integrity of the crystal structure. The reality is that very few pieces of diamond rough are actually good enough to be gem-quality diamonds.
Fancy Color Diamond Shapes: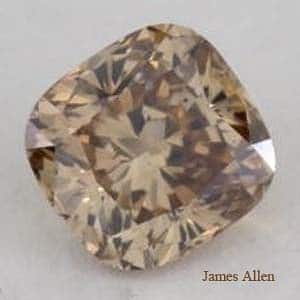 For instance, the diamond cutter might evaluate the characteristics of the Patriot Diamond and determine that the best yield and intensity of color might be something like this 0.91 carat, yellowish-brown, cushion cut diamond from James Allen.
Diamond cutters polish fancy color diamonds to intensify the natural color of the diamond. Whereas round brilliant cut diamonds are cut for maximum yield and light return.
The more intense the fancy color of a diamond, the more the diamond will be worth. We don't shop for fancy color diamonds by proportions and cut quality the way we do rounds.
The focus is on the intensity of color, hue, and saturation. Beauty of course, is in the eye of the beholder. Thus you should select fancy color diamonds, based on the intensity and depth of color that appeals to you.
Crater of Diamonds Discoveries:
Most of the diamond rough you'll find in Crater of Diamonds State Park are white, yellow, and brown. However, nature produces diamonds in practically every color of the rainbow.
Natural diamonds can be intense pink, green, blue, red, yellow, and even purple. One of my favorite specimens is this Fancy Gray Violet Colored Diamond from James Allen.
Unfortunately, fancy colored diamonds in shades of pink and blue are among the most expensive. They are considerably rarer than diamonds which are yellow and brown. For instance, this particular puppy weighs 0.20 carats (one-fifth of a carat) and costs $18,770.00
That's 3.82 millimeters of $$$ Holy Wow $$$
The Biggest Fancy Color Diamond I've Seen: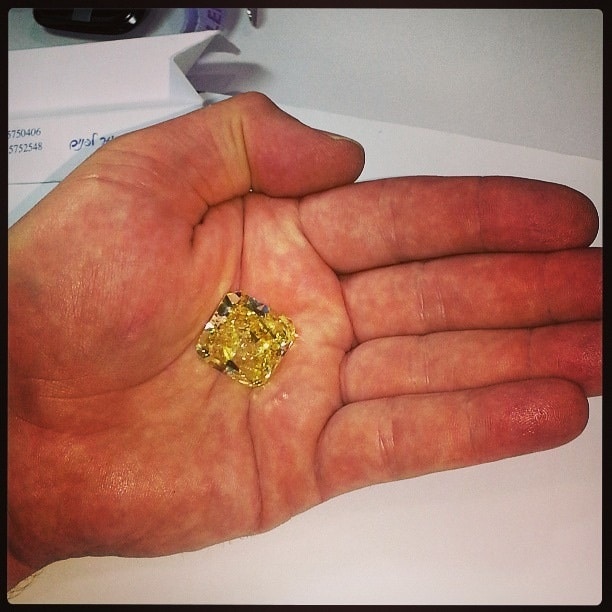 The largest fancy colored diamond that I've held, is this 50 carat, fancy intense yellow diamond. I fell in love with this puppy at the JCK Diamond and Jewelry Trade Show last June.
The diamond cutter wouldn't even tell me how much it costs. He was afraid that I would publish the price on my blog. That's a pretty fair assumption, but I can keep a secret when I need to.
The thing is that most of the larger fancy colored diamonds like this are sold at auction. Private collectors purchase diamonds like this for investment purposes.
They might not want people to know how valuable their collections are. Let me know if you'd like help finding a fancy colored diamond. I don't write about them a lot, but I've got some pretty amazing resources for them.