A Cushion cut diamond weighing 76.02 carats, known as the Archduke Joseph Diamond was sold by Christies Auction House of Geneva on Tuesday, according to Rapaport Diamond News. The diamond is from the Golconda region of India and is graded as being of D color and Internally Flawless clarity, it sold to an anonymous buyer for $21,474,525.00 or $280,000.00 per carat (PPC) which is almost a whopping $22 million dollars!
Christies stated that the price set a world auction record for a colorless diamond. According to Rapaport Diamond News, the diamond's former owner, Alfredo J. Molina, CEO of Black, Starr & Frost, a U.S. based jeweler, said "I am thrilled, but not surprised that the Archduke Joseph Diamond should have fetched such a high price… It is considered to be the finest and largest perfect Golconda diamond ever to appear at auction, with a noble lineage and royal provenance which literally is Fit for a Queen."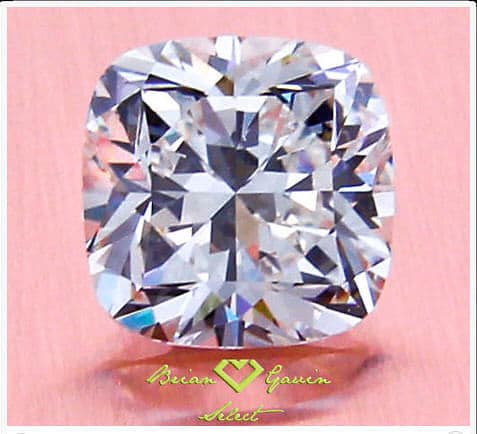 While diamonds from the Golconda region of India are quite rare and obviously quite costly, you can find a cushion cut diamond "fit for a queen" with just a few clicks of your mouse… for instance, this Cushion Cut Diamond from Brian Gavin Diamonds is graded by the American Gem Society Laboratory (AGSL) as weighing 1.041 carats and is VS-1 in clarity and G color with negligible fluorescence. According to the AGSL the diamond measures 6.06 x 6.04 x 4.07 mm so it's almost a perfectly square pillow shape which will fit very nicely in a ring.
[separator]
Both the polish and symmetry of the diamond were graded as Excellent as proof that the diamond was carefully crafted to the finest detail. The primary inclusions consist of a very small feather and then there is a small cloud of pinpoint size diamond crystals and a couple of tiny pinpoint size diamond crystals… this is my type of stone and as you'll see from the additional images provided on the diamond details page from Brian Gavin, it looks phenomenal when viewed through an ASET Scope also, so it's got phenomenal visual performance!
Let me know if you'd like help with finding a Cushion Cut Diamond Fit for a Queen! Cushion Cut Diamonds are one of my favorite shapes of fancy shape diamonds because I love the pillow shape which can be square or slightly rectangular and they can have great visual performance if they are cut right!