It's that time of year again and it seems to me that every Angel needs a halo setting. No, I'm not referring to Christmas and the anticipated onslaught of the holiday season. I'm talking about the media craze that surrounds the annual Victoria's Secret Fashion Show. The live show was held last night and will be aired on Tuesday, December 8th on CBS television.
It seems like practically everybody in the diamond business who I talk with is "Blah, blah, blah, have you seen it?" referring to the Victoria's Secret Fantasy Bra, which the company has used to excess since 1996. Make no mistake, as a red-blooded American male, I'm down with sexy lingerie.
However, I just don't see the point of wasting 685 man-hours of labor to shove 6500+ precious gems into a "Fireworks bra" that nobody is really going to wear for more than a few minutes. After all, it is probably even more uncomfortable than a regular bra. By the way, I've never actually worn a bra, I'm merely repeating what I've heard.
I'm afraid that I've got to side with Faith Summers from High Performance Diamonds on this one. I love her article by the way: "Woman's Bra Bursts. Eleven Injured." It's definitely a classic.
The allure of the Victoria's Secret Fantasy Bra: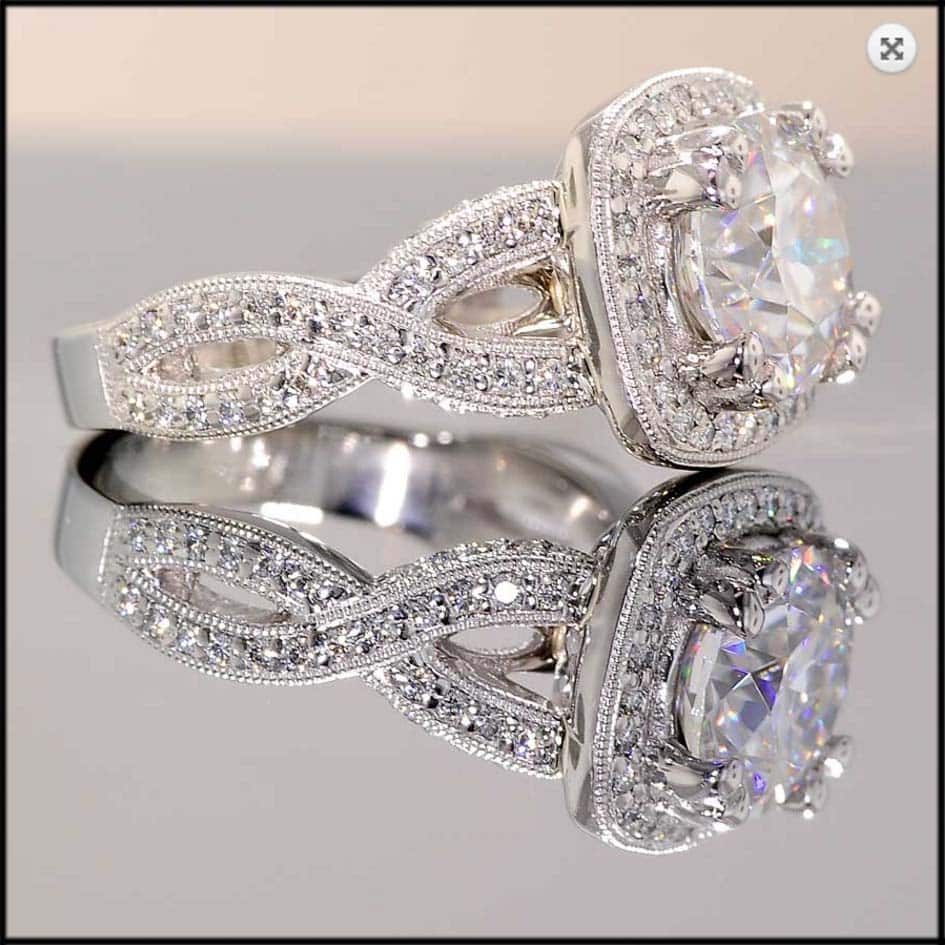 Instead of drooling all over a diamond-studded bra that costs in excess of $2 million dollars, I propose that you buy "Your Angel" something she could really use. To be specific, I'm suggesting that you buy your "Angel" a diamond halo setting.
Of course, you should also feel free to wrap things up with some lingerie from Victoria's Secret that is actually functional, fun, and affordable. Let the Fireworks begin… Ahem.
Speaking of Fireworks, how about this Empress Halo Setting from High-Performance Diamonds? It's pictured with a round brilliant cut diamond in the middle, that measures 8.5 millimeters in diameter.
With that in mind, this 2.31 carat, G-color, SI-1 clarity, Crafted by Infinity round hearts and arrows diamond would do nicely! In fact, it will make that diamond set in that setting look pale in comparison because that's not actually a Hearts and Arrows diamond.
The combination of the ideal proportions, overall cut grade of AGS Ideal-0, and the higher degree of optical precision necessary to produce the hearts and arrows pattern will make practically make this diamond glow in the dark!
The Anita Halo setting by Brian Gavin: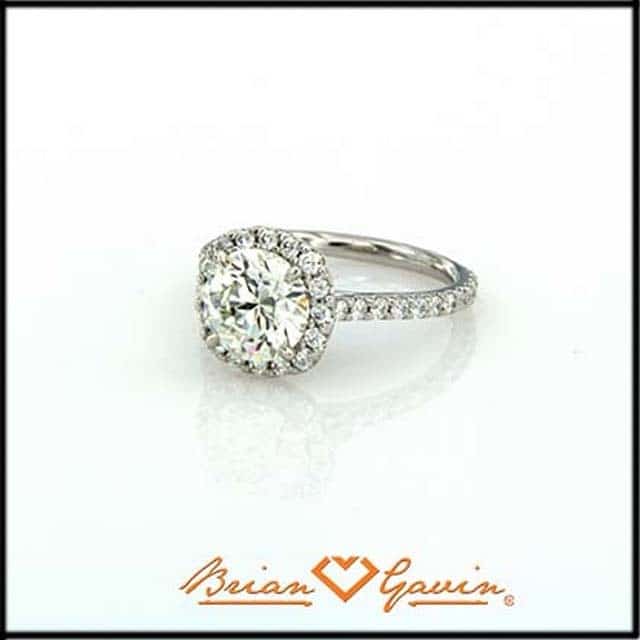 A while back I was working with a client who was in love with a particular Brian Gavin Signature hearts and arrows diamond that I'd found for her. Unfortunately, all of the halo settings that they offered at the time had too much carat weight for her preferences.
This ring is named after my client Anita, who ordered it custom-made by Brian Gavin to fit her specifications. Thus the ring is named The Anita setting by Brian Gavin. One of the cool things about having a ring custom made by Brian Gavin, is that you get to name it.
Imagine the "Fireworks" you will create when you present "Your Angel" with a custom designed engagement ring from Brian Gavin, that is named after her! Don't worry, she'll probably stop by Victoria's Secret and buy some lingerie all on her own the very next day!
In fact, you can host your own private Victoria's Secret Fashion Show! Ring! Bling! Ring-a-ding-ding! Too far? Maybe. But you were thinking about it.
Now, where was I? Oh, yea, my client, Anita had originally set her sights on the French halo setting by Ritani. However, she felt that it felt a bit light on her finger, and she wanted to customize it a bit.
Notice the little hearts that are tucked under the diamond within the cage work that holds the center stone in place. What? You don't see any hearts? That's because you're supposed to click on the link to see the Anita halo setting by Brian Gavin, and then watch the 3D video file turn 'round and 'round.
The Round French Halo Setting by Ritani: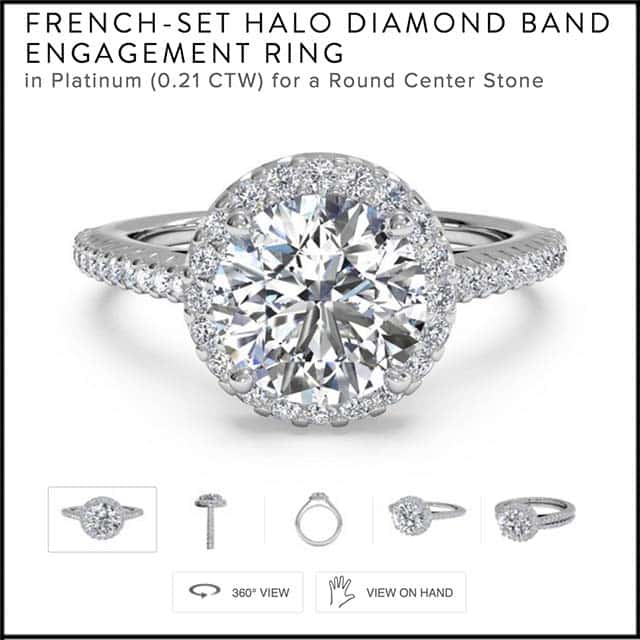 The Round French Halo setting by Ritani is extremely popular with my clients. I've got a long list of people who have purchased this engagement ring from Ritani, and everybody has loved it. Although I have received several messages from people that indicate that the ring felt lighter on their finger than they expected a platinum ring to feel.
Ritani clearly states that the ring weighs approximately 3.65 grams. How heavy is it really going to be? About the weight of three standard size paperclips. The weight of the ring drops down to about 2.1 grams if you select 18k white gold, but it also costs about five hundred dollars less.
What's the difference? Not much. Did you know that during World War II, non-military use of platinum was banned because it was determined to be a strategic war metal? So white gold was invented as a substitute. \
Both platinum and 18k white gold are great alloys for diamond engagement rings. By the way, setting diamonds in white metal tends to make them look whiter by improving your perception of diamond color grades.
Effect of metal color on diamond appearance:
Since I just touched on the subject, let's further discuss how metal color can affect our perception of diamond color. Generally speaking, the effect of the color of the metal that physically touches the edge of a diamond will affect the color of the diamond by one color grade. Specifically, I'm referring to the color of the prongs, bezel, or halo setting that holds the diamond in place.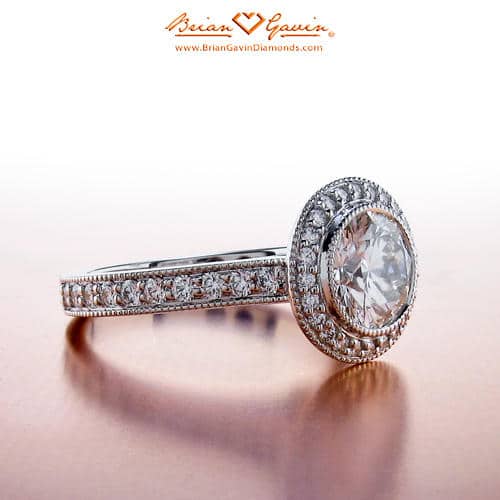 Thus setting this 1.687 carat, I-color, SI-1 clarity, Brian Gavin Signature round hearts and arrows diamond in this 18k white gold Brian Gavin Signature halo setting, is likely to make it appear to be closer to H-color than I-color. This is why many appraisers and graduate gemologists adjust the perceptible color of a diamond by one color grade when it is mounted.
Of course, this depends on the color of the metal that is in contact with the diamond. If you wanted the diamond to face-up a bit warmer or wanted to accentuate the warmer properties of a faint yellow color diamond, then you might want to set it in an all-yellow gold setting.
Another way to boost the apparent color of a diamond is to purchase one that has blue fluorescence, such as this 1.661 carat, H-color, VS-2 clarity, Brian Gavin Signature round diamond which features medium blue fluorescence. The blue fluorescent molecules within the diamond will be activated when the diamond is exposed to light sources that contain higher amounts of ultra-violet light, such as direct sunlight.
That means that blue fluorescence serves to filter out some of the yellow undertones that are present in diamonds of all colors. Yes, that's correct, even a D-color diamond exhibits a hint of "color" even though we actually grade diamonds for an absence of color, rather than the presence of color. Chew on that little fact for a bit.
Cushion Shaped Halo Solitaire for Round Diamonds: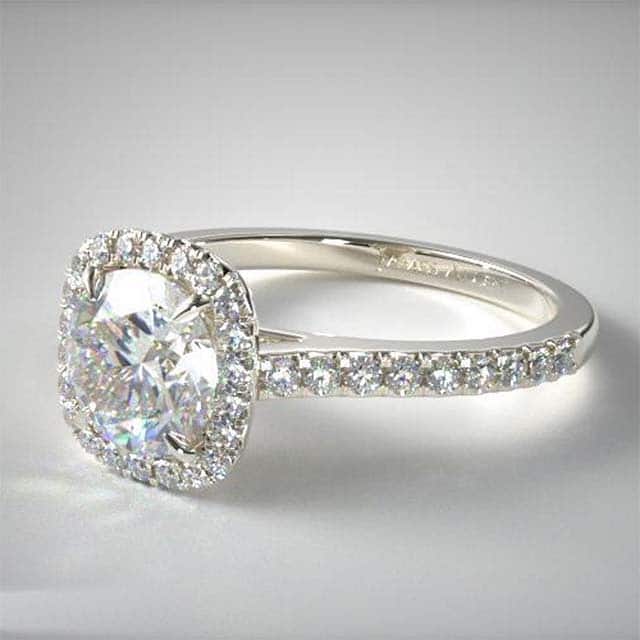 This cushion outline halo setting by James Allen is designed to accommodate a round center stone. It is available in versions built to hold a round brilliant cut center stone ranging in weight anywhere from 0.30 to 3.00 carats. This 1.108 carat, G-color, VS-1 clarity, James Allen True Hearts round diamond would do nicely if you're looking for something around a carat.
Of course, you can use my preset selection criteria to Search James Allen for Ideal Cut Diamonds if you're looking for options with different characteristics. This will save you the hassle of setting the parameters for total depth, table diameter, polish, symmetry, etcetera. In that case, all you have to do is adjust the sliders for the price, carat weight, color, and clarity.
For the record, I am more than happy to look over the details for any diamonds that you might be considering if you'd like to send me links via the submission form for my free Diamond Concierge Service. All I ask in return is that you use my affiliate links, and tell them that you heard about them on Nice Ice!
This brings up an interesting topic. Somebody was really surprised the other day when I responded to their inquiry advising them not to buy a diamond that they had their heart set on. Apparently, they thought that I would simply "rubber stamp" the quality of the diamond as being good, because it was offered by one of the preferred vendors whom I work with.
That is not how this works. They might pay the bills as far as the affiliate commissions go, but I believe that I work for you. So take advantage of my free Diamond Concierge Service, it exists to help you find the very best diamond within the range of price and desired characteristics that you have chosen to work with.
Monique Lhuillier Twist Halo Setting from Blue Nile: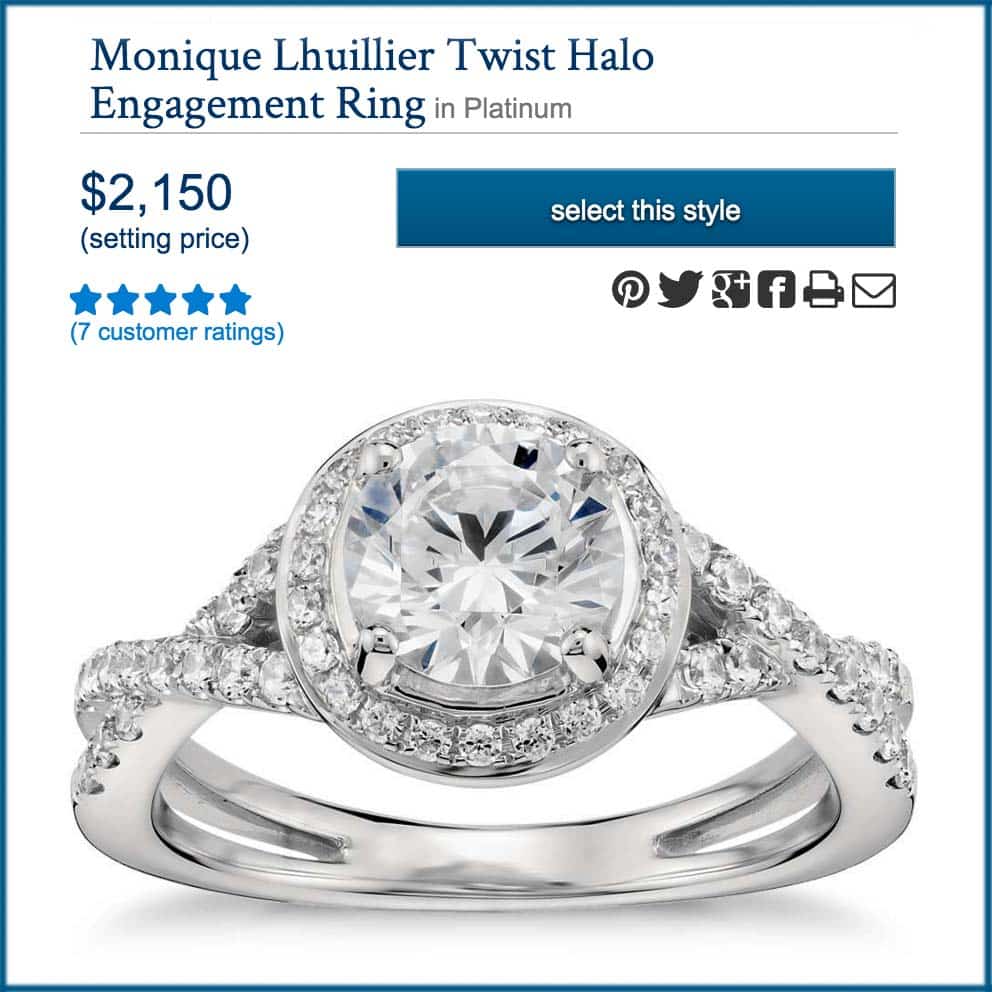 Several of my clients have ordered the Monique Lhuillier Twist Halo setting from Blue Nile and loved the ring. Naturally, I helped them select the diamond to ensure that it met my selection criteria. About 50% of the time I'm able to provide additional details. I explain more about that in this tutorial on How to Conduct a Blue Nile Diamond Search.
Here again, it pays to take advantage of my free Diamond Concierge Service if you're shopping for a diamond, online or offline, I'm happy to help whether you intend to purchase from one of my preferred vendors or not. Diamond Shopping Tiffany & Co? Great. Send me the specs and we'll discuss both the good and the bad.
The same goes for online vendors who are not featured on this website. This should be a clue if they happen to have an affiliate program, but if you want to do business with them anyway, I'm happy to help. You can lead a horse to water and all that.
Another reason why you'll want to contact me before completing your purchase is that I might be able to save you a little bit of money on the set because I've got:
Blue Nile Referral Codes.
Brian Gavin Discount Coupons.
High-Performance Diamonds Coupons.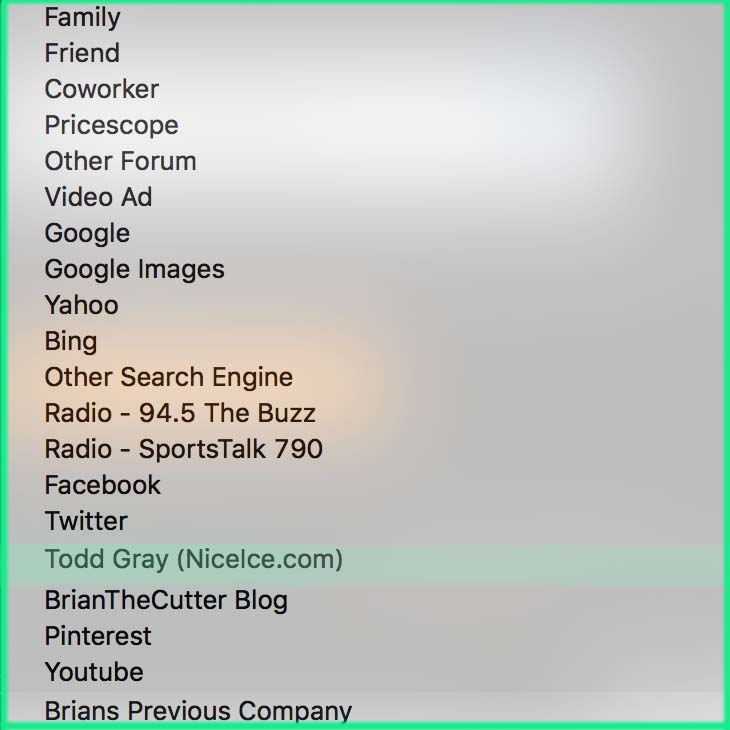 That will save you some money on the setting, the ring. Nobody has coupon codes for savings off of the diamond, nobody. But I will let you in on a little secret:
There is a chance that you can save some money on the diamond if you Register Now with Brian Gavin as a client. They usually send out special offers to clients at this time of year. Those email messages often include a discount on diamonds and jewelry. Consequently, that will beat any discount or coupon code that I'm going to be able to provide.
The only thing that I ask in return is that you select my name "Todd Gray" from the drop-down list of referrers when you register as a client with Brian Gavin. And if possible, remember to tell them that you've been working with Todd Gray of Nice Ice when you speak with them.
Note that the vendors I choose to work with generally only accept one coupon or discount offer, so you won't be able to stack up the discount and coupon codes, nor should you. We want these companies to remain profitable so that they can stay in business to serve you.
Online dealers are not working with the same high mark-ups enjoyed by their traditional brick and mortar counterparts, they are competing globally for your business, not just hoping to capture the interest of their local markets.
Victoria's Secret Photo by Guy Aroch / Courtesy of Victoria's Secret / Vogue