If you watch television, then the odds are that you've seen advertisements for the De Beers Forevermark Diamonds "Center of My Universe" marketing campaign and so has your wife or girlfriend… and if you were paying any attention at all, you probably noticed her heart skip a beat and she might have even given you that look that says "Honey, I'm still the center of your universe… right?" The correct answer to that question by the way is an emphatic "YES" and it should be followed up by presenting her with a halo set diamond from the Center of My Universe collection. Failure to comply might cause the planets which orbit your universe to fall out of orbit… you've been warned!
Since planetary annihilation is probably not featured at the top of this week's Honey Do List, and with the realization that Valentines Day is just around the corner, and the fact that the vacuum cleaner which you presented her with for Christmas sucked even if it was a top of the line Dyson… you might be feeling the pressure to live up to the expectations created for all of mankind to live up to by the brilliant advertising executives hired by De Beers to drain you of your hard earned cash. Being the modern age, slightly geeky version of Errol Flynn, you turn to the internet to shop for Forevermark Diamonds to get the best selection and price…
Shop for Forevermark Diamonds Online:
Unfortunately you're not going to find deals on Forevermark Diamonds online or anywhere else for that matter because the authorized dealers that represent De Beers Forevermark Diamonds are required to maintain a Minimum Selling Retail Price (MSRP) and discounting is prohibited… but I have to tell you, from the perspective of an experienced diamond buyer with almost 30 years experience buying and selling diamonds, there really isn't anything all that special about Forevermark Diamonds beyond the presence of a hologram-like inscription of the Forevermark logo and a registration number which is located beneath the table facet of the diamond.
If you read my Forevermark Diamonds Review you'll discover that the selection criteria for a Forevermark diamond is pretty broad and in some instances rather vague… they talk about Forevermark diamonds being special because less than 1% of diamonds can be selected for the Forevermark brand, but then they state that the characteristics of the diamond must be "at least 0.14 carats in size; of a clarity standard SI2 or above; of a Very Good cut or higher; and colour L or higher" and the reality is that there are tons of diamonds that meet that criteria.
And based upon the prices that I saw being advertised for Forevermark Diamond Jewelry, with vague descriptions such as "one carat" (without any reference provided for the actual clarity grade, color grade, or overall cut grade of the diamond) I'd have to say that I'm no more inclined to purchase a piece of jewelry from the Forevermark Center of My Universe collection online without significantly more details, than I am inclined to purchase a used car off of Craig's List which is advertised as something like "BMW 7 Series, Price, Order Now"
From my perspective, if the folks at De Beers Forevermark want their line of Luxury Diamonds to be considered in the same light as more prominent online brands like Brian Gavin Signature and Crafted by Infinity, they're going to need to provide online customers with diamond details pages that provide access to the diamond grading report, computerized proportions analysis, clarity photographs, video of the diamond, and images of the diamond as seen through an ASET Scope, an Ideal Scope, and a Hearts & Arrows Scope, so that we might judge the optical symmetry of their diamonds and determine whether they are worth the substantial increase in price.
Forevermark Center of My Universe Halo Rings:
The reality is that there is nothing special or all that unique about the concept of the halo settings that comprise the Forevermark Center of My Universe jewelry collection… Practically every jewelry designer offers a variety of halo set diamonds as part of their collection, all the folks at Forevermark did was attach a catchy tag line to it, kudos to them!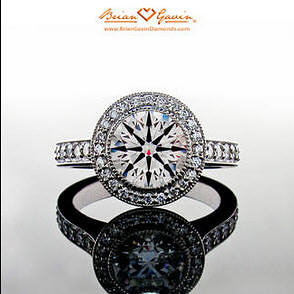 But along with the catchy tag line and flashy marketing comes a really steep price point which seems ridiculous to me, especially since the quality of Forevermark diamonds online seems to be backed up by little more than a vague reference to quality. When I shop for halo set engagement rings from Brian Gavin, I'm provided with full details about the diamonds contained in the ring. For instance I know that this 18k white gold Brian Gavin Halo Setting features 20 diamonds in the band, plus however many diamonds it takes to complete the halo around the center stone, and that the total weight of diamonds is going to be around 0.75 carats and that they are VS in clarity and F/G in color.
[separator]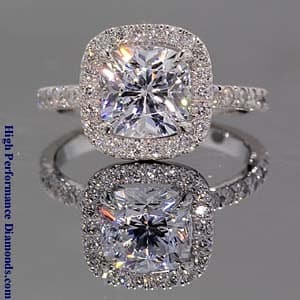 All right so this Park Avenue Halo Setting from High Performance Diamonds looks pretty similar to the halo setting featured at the top of this page from the Forevermark Center of My Universe jewelry collection. The Park Avenue Halo Setting from HPD features accent diamonds which are one third of a carat total weight, G/H in color and VS in clarity, the ring is designed to accommodate a 7 mm cushion cut diamond, but it's custom made to order so it can be made to fit a diamond of different size or even shape, such as this 1.33 carat, I-color, VS-2 clarity, round brilliant Crafted by Infinity Hearts and Arrows Diamond.
[separator]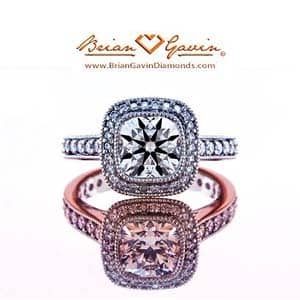 This Round Square Halo Setting from Brian Gavin is another ring which offers a design very similar to the look of the halo setting featured within the Forevermark Center of My Universe collection. If you want to design a ring for the center of your universe which is truly unique, order it set with a Brian Gavin Signature Cushion cut diamond, it has an overall cut grade of AGS Ideal-0 and exhibits a superior volume of light return, brightness and sparkle factor that will put stars in her eyes! Want to present her with a diamond that is truly rare? Set this 1.496 carat, F-color, VVS-2 clarity, BGD Signature Cushion in this ring!
[separator]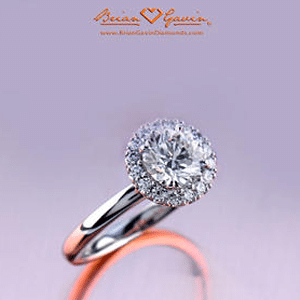 The Allie Halo Setting from Brian Gavin looks extremely similar to the halo set diamond ring with the plain shank featured within the Forevermark Center of My Universe jewelry collection. It is built specifically for a one carat round diamond and features accent diamonds which weigh 0.25 carats, VS clarity, F/G color, and is built in platinum. It would look stunning set with this 1.013 carat, G-color, VS-2 clarity, Brian Gavin Signature round diamond with medium blue fluorescence! Notice how everything you could possibly want to know about the diamond is provided on the diamond details page: video, clarity photo, ASET / Ideal Scope, lab report, even a photo of the blue fluorescence!
[separator]
Forevermark Center of My Universe Halo Pendant: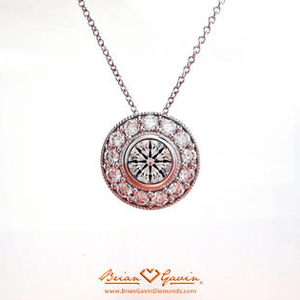 This Bezel Set Halo Pendant from Brian Gavin is very similar in design to the Center of My Universe Halo Pendant from Forevermark, except that it features a center diamond which is bezel set and I think it presents a very elegant option that is much more unique. Of course if you really want the pendant to look more like the one featured in the Center of My Universe collection, take a close look at the top of the Allie setting pictured just above this paragraph and imagine it without the ring shank… hint, hint, hint. And if by chance you're looking for a jewelry design that I haven't featured on this page, Brian Gavin Designs Custom Jewelry and so does Wink at High Performance Diamonds.
[separator]
Now in case you're wondering why I referenced my friends Wink and Brian so frequently throughout this web site, it's because they were my primary competitors when Nice Ice was in the business of direct diamond sales. They offer diamonds of comparable quality to what I purchased for inventory and rely on selection criteria which is very similar to my own, so I know what to expect when I look at the diamonds which they have to offer and I've seen the quality of the jewelry which they manufacture.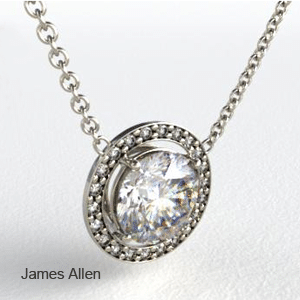 As you might expect, I looked through the jewelry catalog featured on James Allen, but I didn't find any designs which were close enough in concept to those featured within the Forevermark Center of My Universe collection to be worthy of mention… but they do provide you with the ability to Design Your Own Pendant on James Allen and this 18k white gold pavé set diamond pendant looks pretty nice! It would certainly look amazing with a James Allen True Hearts Diamond set in the center of it. Be sure to refer to my preferred selection criteria outlined in 15 Seconds to Diamond Buying Success when considering the various options provided to ensure the highest level of visual performance.
[separator]
So as you can see, it's possible to purchase high quality jewelry that features a center stone which represents the center of your world, surrounded by halo set diamonds that highlight her beauty, without paying the high price required for the marketing campaign which fuels the Forevermark Center of My Universe collection. Feel free to take advantage of my Free Diamond Concierge Service if you'd like my assistance or advice, I might even have a coupon or know of a special offer that can save you some money…