Hi Todd, my girlfriend and I spent the past weekend looking at diamonds and she fell in love with a 1 ct, G, VS2, Hearts on Fire diamond and I almost fell off my chair when the HOF dealer showed me the price tag! I tried to find better prices on Hearts on Fire diamonds online, but apparently discounting is prohibited.
I noticed that you seem partial to the Hearts & Arrows diamonds produced by Brian Gavin and Crafted by Infinity, are they comparable to HOF? The least expensive CBI diamond I can find is this 1.01 carat, G, VS2, round from High Performance Diamonds for $10k. But honestly, I'm looking for something more like $7-8k, and Brian Gavin has nothing in this range. Help! — D.C.
Hearts on Fire vs Brian Gavin vs Crafted by Infinity:
Throughout the course of the 25+ years when I was employed as a diamond buyer, I've purchased a lot of diamonds from Hearts on Fire, Brian Gavin, and Crafted by Infinity, and I find their production to be top notch… I don't think you could go wrong purchasing a hearts and arrows diamond from either one of them, but in my experience the retail price of a Hearts on Fire diamond will be higher than the price of a comparable Brian Gavin Signature or Crafted by Infinity hearts and arrows diamond, this is primarily due to the manner in which each diamond brand chooses to market its production.
Generally speaking, your diamond buying budget is likely to stretch the farthest online because diamond dealers conducting business via the internet, need to price their diamonds reasonably enough to compete with diamond dealers all over the globe, and not just in their own backyard as traditional brick and mortar jewelry stores need to do.
If you're looking for a true hearts and arrows quality diamond for the best price possible, then I think that Brian Gavin and Crafted by Infinity are your best bet. However it seems that even the best prices on the hearts and arrows diamonds offered by BGD and CBI are still beyond the parameters of your desired price range, at least for the carat weight, color, and clarity which your girlfriend seems to prefer… thus some adjustments are going to have to be made, and there are a variety of options available.
Brian Gavin Blue vs Brian Gavin Signature diamonds: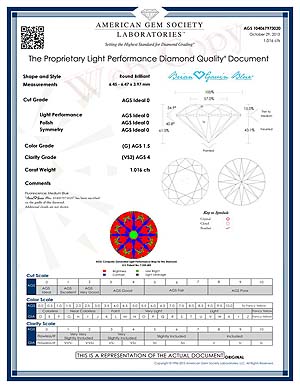 The first option that I'm going to suggest is that you forego the thought of restricting your search on Brian Gavin to the hearts and arrows diamonds featured within the Brian Gavin Signature collection, and that is because in my experience the diamonds featured in the Brian Gavin Blue collection are truly just as spectacular… most likely because they are produced by the same diamond cutters, on the same production line, and thus they tend to exhibit the same degree of optical symmetry.
This 1.016 carat, G-color, VS-2 clarity, Brian Gavin Blue fluorescent diamond has an overall cut grade of AGS Ideal-0, and is only five hundred dollars more than the high end of your budget. The medium blue fluorescence commands a slight discount, which is kind of crazy since it is likely to help boost the body color by helping to offset any yellow tones which may be present in a near-colorless diamond.
Save money by dropping one clarity and color grade: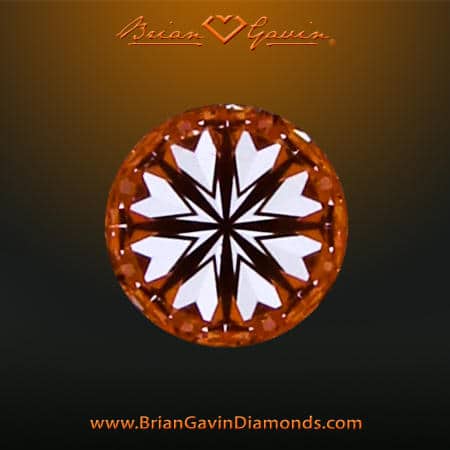 Another excellent option is to simply drop down one clarity and one color grade, and select this 1.024 carat, H-color, SI-1 clarity, Brian Gavin Signature round diamond which exhibits a crisp and complete pattern of hearts and arrows, which is pictured to the left.
Keep in mind that the visible difference between a G-color and H-color diamond is extremely slight when viewed under normal lighting circumstances; and since this diamond is deemed to be "eye clean" by Brian Gavin, you'll see no difference between it and a VS-2 clarity diamond when comparing them side-by-side; the difference in price, however, is dramatic and this hearts and arrows diamond is well within your price range.
Save money by buying a diamond just shy of the carat  marks:
Another very popular way to save money buying diamonds is to purchase a diamond that weighs just shy of the carat weight that you desire, because diamond prices increase in tiers of carat weight. For instance, there is a diamond price increase that occurs between the 0.90 – 1.00 carat marks, which means that the Price Per Carat (PPC) will be higher for a diamond weighing 1.00 carats, than it would be for a diamond of the same quality that weighs 0.99 carats.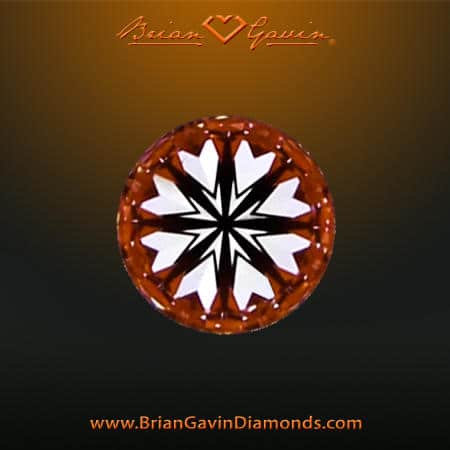 Therefore you can save a lot of money by picking up this 0.922 carat, G-color, VS-2 clarity, Brian Gavin Signature round diamond, which as you can see by the picture provided to the left, exhibits a stunning pattern of hearts and arrows. The difference in size between this diamond and the one-carat diamonds referenced above is about two-tenths of a millimeter.
That isn't something most people would pick up from across the dinner table. What people will notice is how bright the diamond is because of the proportions, and the amazing sparkle that results from the superior level of optical symmetry. If G-color, VS-2 clarity, H&A, is truly important to you, then this is an excellent option!
The natural inclination of people when they learn about the price per carat increase that occurs between the 0.99 – 1.00 carat marks is to try to hold out for a diamond that weighs as close to 0.99 carats as possible, since after all that they were originally hoping for was a one-carat diamond.
However, it is important to note that there are likely to be premiums assessed for diamonds weighing between 0.95 – 0.99 carats, and this type of price increase tends to be applied near the upper end of other ranges of carat weight within the price tiers as well.
So if you really want to save money buying diamonds, don't get caught up in trying to find diamonds that are as close to the high end of the mark as possible, quite often you will just end up paying more money for a fraction of carat weight that you are not likely to be able to distinguish from a visual standpoint.
There are two Crafted by Infinity diamonds that you might also want to consider… One is a 0.927 carat, G-color, VS-2 clarity, round from High Performance Diamonds, and the other is a 0.947 carat, G-color, VS-2 clarity, round from HPD, and just like the hearts and arrows diamonds produced by Brian Gavin, I think that both of them are comparable to the production quality offered by Hearts on Fire, but I'll let you be the judge of that.