My girlfriend likes the Belle split halo setting from Brian Gavin. However, I'm concerned that halo settings are just a fad. Do you think we'd be better off with a timeless classic like the Tiffany knife edge solitaire?
What is the allure of halo settings anyway? I know that they're really popular right now, but I feel like I'm paying a ton of money for a bunch of tiny diamonds and a ring that won't be popular in a year or two.
What do you think? This 1.543 carat, I-color, VS-2 clarity, Brian Gavin Blue fluorescent diamond, but I'm open to any suggestions that will save me some money! Engagement rings are expensive! I don't mind spending the money, I just want a ring that will stand the test of time. — Daniel K.
Why are halo settings so popular?
Based on the conversations that I've had with the women who have consulted me regarding which halo setting to pick. It seems that halo settings are so popular because they like the extra sparkle provided by the accent diamonds that are set around the center stone in a halo. Women also seem to like how the extra sparkle created by the hal0 setting makes the center stone appear larger from a distance.
It is difficult to say whether halo settings will continue to be one of the most popular styles of diamond engagement rings, but it seems like they will continue to be popular for some time to come… I venture to say that the halo settings will continue to enjoy the limelight for at least the next 2 – 3 years until perhaps something more alluring comes along.
I definitely am a fan of the Brian Gavin Belle split halo diamond engagement ring, which is pictured above, I got to play with it while I was at Brian Gavin Diamonds last August and thought that the setting was extremely well crafted, exhibited excellent workmanship, and felt comfortable on my finger… well at least as far on my finger as I could get it.
Why are halo settings so expensive?
The most common concern that clients express to me with regards to halo settings is regarding the price; many people feel that halo settings are expensive since it appears to them that the rings consist of just a little bit of metal and a bunch of tiny diamonds.
When you buy a ring like the Belle split halo from Brian Gavin, you're paying for more than just the weight of the platinum and the weight of the accent diamonds, each ring is custom made to fit the diameter of the center stone so that there is not the unsightly gap that is seen with the majority of ready-made halo settings that most retailers sell.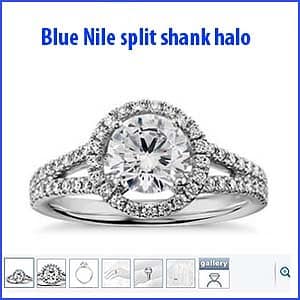 Take this split shank floating halo setting from Blue Nile for instance, it's a ready-made setting that is designed to accommodate round brilliant cut diamonds weighing between 0.70 – 1.60 carats.
In most instances, the manufacturers of this type of ring will produce it in three or four different versions, which are designed to accommodate diamonds of popular sizes, such as 0.75 | 1.00 | 1.25 | 1.50 | 2.00 carats and so on.
There is some extra space provided to accommodate diamonds that might be slightly larger or smaller in size… which is why there is a gap that appears between the center stone and the halo of accent diamonds as is visible in the six o'clock region of the ring in this picture.
The split shank floating halo setting from Blue Nile might be perfectly fine for most people. However, keep in mind that the one designed for a 0.70 carat is the same as the one that would be used to set a 0.89 carat diamond.
Thus the setting is going to look slightly different with each diamond that is set in it. The advantage to the Belle split halo setting from Brian Gavin is that it is custom made to fit each diamond specifically, thus the halo is going to cradle the center stone without the presence of an unsightly gap.
Another factor that contributes to the overall cost of a halo-style engagement ring, is the cost of setting each individual diamond. Not only does the jeweler have to shape each prong to create a seat for the diamond to set in, but each diamond has to be set, tightened, and re-tightened throughout the diamond setting process to ensure that the ring is structurally sound.
One of the things that I noticed while sitting beside the bench jewelers employed by Brian Gavin, is that they take the time to thoroughly polish all the tiny parts of the ring, including the inside of the seats where the diamonds are set, to ensure that the rough edges created by the cutting burrs do not reflect up through the diamonds… it's a nice touch that the custom jewelers who we used to employ also took the time to do, and it minimizes the effect of the setting upon the appearance of the diamond.
Are halo settings just a fad?
While we're on the subject of cost, let's address your concern about whether halo settings are a fad, and whether they are still going to be popular in a year or two… At the current moment, the Belle split halo setting from Brian Gavin sells for $5,830.00 in platinum, and if you ask me real nice I'll email you a coupon that will save you up to 10% off the price of the setting if it is ordered in conjunction with either a Brian Gavin Signature or Brian Gavin Blue fluorescent diamond.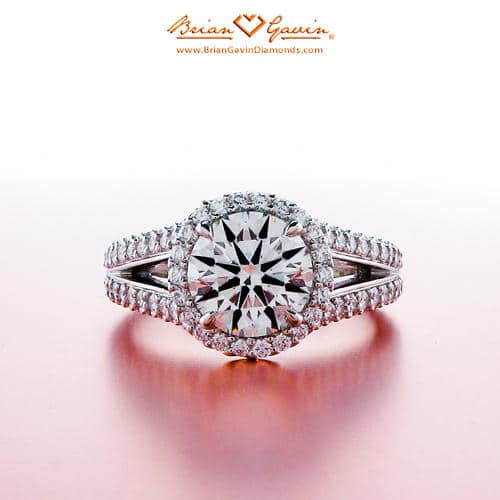 And imagine that halo settings will remain popular for the next 3 – 5 years, and if by chance your wife becomes smitten with whatever setting style becomes extremely popular next, that you would hold off on upgrading the wedding set until your ten year anniversary.
Given the fact that most people get married about one year after the proposal, you'll have gotten approximately eleven years out of the initial investment of $5,830.00 so your wife got to enjoy the engagement ring of her choice for about $1.45 per day, which is probably less than you spend on a cup of coffee each day, and suffice to say that the ring is going to be around a heck of a lot longer.
Regardless of whether halo settings are just a fad, and whether or not they remain one of the most popular engagement ring styles of all time, I think it's worth the expense of buying your girlfriend the ring that she wants, and not worry about whether it is going to be a timeless classic or not.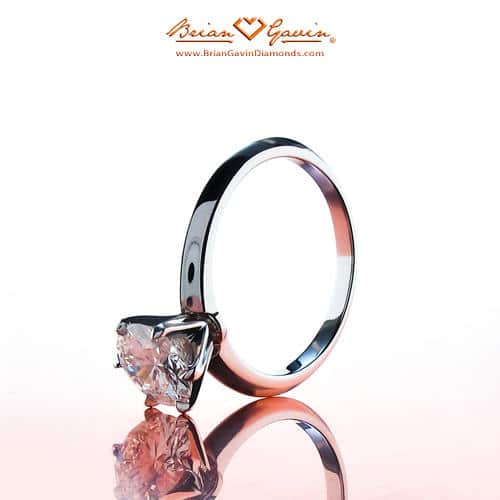 But hey, it's not my money, and obviously the classic knife edge Tiffany style solitaire from Brian Gavin is a ring design that seems to have withstood the test of time in terms of remaining popular throughout the rise and fall of various ring styles.
Without a doubt, I think that the 1.543 carat, I-color, VS-2 clarity, Brian Gavin Blue fluorescent diamond would look stunning in either the Belle split halo or the classic Tiffany knife-edge, but you might also consider this 1.436 carat, I-color, SI-1 clarity, Brian Gavin Signature round hearts and arrows diamond, because it will save you about twelve hundred dollars based upon the wire transfer price, and the difference in diameter is only 0.215 millimeters.
In terms of the proportions and overall cut grade, the two diamonds are virtually identical, thus they are going to exhibit virtually the same volume of light return and sparkle factor. The optical symmetry level of the two diamonds appears to be comparable based upon the ASET and Ideal Scope images.
In that case, I don't see a reason to choose one diamond over the other, beyond the obvious difference in price and the mental satisfaction that might come with being able to say that the 1.543 carat, I-color, VS-2 clarity, Brian Gavin Blue fluorescent diamond is more than 1.5o carats in weight.
Another minute advantage might be that the strong blue fluorescence within the 1.543 carat, I-color, VS-2 clarity, Brian Gavin Blue fluorescent diamond has the potential to filter out some of the I-color, but that will primarily only occur when the diamond is exposed to a light source which has a lot of ultra-violet in it, such as direct sunlight… thus if you're truly looking to save a little money, the 1.436 carat, I-color, SI-1 clarity, Brian Gavin Signature round hearts and arrows diamond seems like the logical choice.