Tacori Bridal announced the debut of their "Pretty in Pink" rose gold jewelry collection today.  It features a collection of engagement rings, earrings, and diamond pendants made in rose gold, instead of traditional yellow gold, white gold, or platinum.
"Pink gold" is a common name for "rose gold" which is a mixture of gold and copper alloys, which was quite popular at the beginning of the nineteenth century.  "Pink gold" does not occur naturally, just like "white gold" it is created by mixing various alloys with yellow gold until the desired color is achieved.
The most common mixture of alloys to create 18k rose gold jewelry is 75% yellow gold, mixed with 25% copper to achieve a pink color. We were an authorized retailer for Tacori Bridal when we had our brick-and-mortar jewelry store.
Tacori employs excellent designers and their jewelry production is top-notch.  I'm positive that the jewelry featured as part of the Tacori Pretty in Pink Collection will be just as exquisite as the rest of their jewelry creations. You can find Tacori designs online from Brilliant Earth and Whiteflash.
The Popularity of Pink Rose Gold: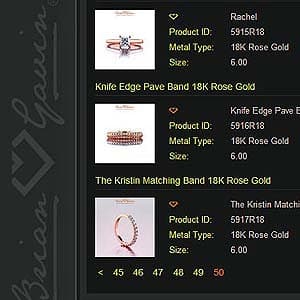 The popularity of rose gold jewelry definitely seems to be cyclical. With the rising popularity of vintage jewelry styles and the ease of manufacturing intricate designs created by Computer Aided Design (CAD) and Computer Aided Manufacturing (CAM) there has been a significant increase in the demand for pink gold jewelry.
Enough so that a search for Rose Gold on the Brian Gavin web site produced 50 pages of rose gold jewelry items which are currently available from Brian Gavin.
And the reality is that practically any item from the Brian Gavin Jewelry Catalog can be ordered in rose gold or pink gold if you prefer… all you have to do is ask.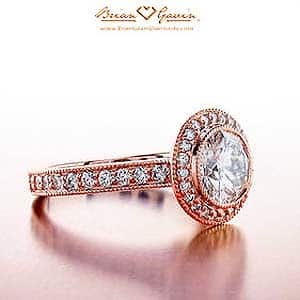 Halo settings are extremely popular at the moment and one of my favorite halo engagement rings is this custom 18k rose gold design by Brian Gavin Diamonds. This one has a combined total weight of approximately 0.75 carats of accent diamonds that are F/G in color and VS in clarity.
The diamond cut quality is comparable to the diamonds featured in the Brian Gavin Signature collection, so they are going to be just as sparkly as the center stone!  Speaking of which, this 1.208 carat, G-color, VS-2 clarity, Hearts & Arrows Diamond from the Brian Gavin Signature Collection would definitely look "pretty in pink" set in this rose gold ring!
By the way, the affiliate links featured on this page help fund this website and my dark chocolate and wine fund, however clicking on them does not affect your prices from Brian Gavin or any other company which I work with, my consulting fees are paid directly by them. Feel free to Drop Me a Note if you have questions or would like my assistance selecting a diamond.