The premise of a Diamond Concierge Service is a basic concept by definition:
This is a review about a company that goes by the name "Diamond Concierge Service" [dot com] which contacted me last night via MY Free Diamond Concierge Service request form.
They wanted to inform me that their company name "Diamond Concierge Service" is "Trademarked" and advised me to "kindly remove the term from you website top navigation and page" titled Diamond Concierge Service.
That page features a contact form for clients to use to request my assistance either reviewing a diamond which they found. You can also use it to ask for help finding a diamond, based upon your personal preferences for carat weight, color, and clarity.
The Initial Threat Bored Me to Tears:
Here is a snapshot of the message which I received from "Diamond Concierge Service dot com" who didn't even bother to introduce himself by first or last name... Gee, that was kind of rude.

Note that the diamond concierge service being operated by these guys, is nothing like the Diamond Concierge Service being offered on this web site, which is the:
Trademarks and Service marks 101: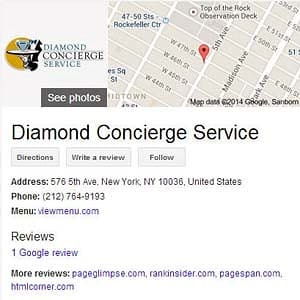 Naturally upon receipt of this message, I went to the U.S. Trademark web site and searched the term diamond concierge service. This provided me with one result for the registration of a service mark that includes the words "Diamond Concierge Service" registered to be used as part of a logo.
The logo for this diamond concierge service consists of a butler, holding a tray with a diamond setting on it. The logo features a mustard yellow colored background, with the word "Diamond" in blue, the word "Concierge" in black, and the word "Service" in blue.
Using the format "diamond+concierge+service" I was able to locate additional information about the company, including the logo, which appears to the left for your reference.
Obviously, I'm going to have to consult with my attorney about the difference between a trademark and service marks. However, it seems to me that I'm using what is known as "common words and phrases" to describe a basic service that is provided by every diamond dealer and jeweler throughout the world.
Specifically, I am using my 30 years of diamond buying experience, to provide a concierge service that assists people with finding a diamond of exceptional quality.
I don't believe that the terms "diamond" or "concierge" or "service" can be trademarked as they are common use terms. The Service Mark application specifically states that "No claim is made to the exclusive right to use "diamond" and "service" apart from the mark as shown."
Personally, I don't think that my use of the term "Diamond Concierge Service" violates the "Service mark" of Shiraz Jewels LLC, which is the registered owner of the Service Mark. My use of the common phrase Diamond Concierge Service would only do so, if I attempted to promote my version of the service using a logo that very closely resembled their logo, including the concept of a butler serving a diamond on a tray, with a yellow background, and the words Diamond Concierge Service printed in a similar font and color scheme. I suppose we'll see what my lawyer has to say… Update: he said, "Their argument lacks any merit."
How Unique is a Diamond Concierge Service?
While searching Google for the term "Diamond Concierge Service" to learn more about this company and the services which they offer, I noticed that I'm not the only person in the diamond business who offers some sort of diamond concierge service. There are actually 1,240,000 results for the search term "diamond concierge service" provided by Google. While the first four positions on Google currently refer to:
the Diamond Concierge Service web site
The fifth position references a Diamond Concierge Services offered by Perry Chen of Leon Mege Jewelers of New York. The seventh position points to a thread on PriceScope which raves about the diamond concierge service operated by Leon Mege.
The eighth position on Google for the term "diamond concierge service" points to an article in the Examiner. The article highlights the Diamond Concierge Services provided by Graduate Gemologist Jessica Greenberg of New York. The article published in the Examiner appeared on September 3, 2012, appears to predate the October 30, 2012 registration date of the service mark belonging to Shiraz Jewels, LLC., which is also being operated out of New York.
The tenth position on Google references the Diamond Concierge Service which I offer on this web site. Then it sprawls off into pages and pages of other diamond dealers and jewelry stores who all offer some sort of diamond concierge service that offers to locate and examine diamonds on behalf of their customers.
It seems to me that the phrase "Diamond Concierge Service" as it is being presented by Shiraz Jewels, Leon Mege, Jessica Greenberg, Nice Ice, and other members of the diamond and jewelry industry, is not capable of serving the essential function of a trademark because it is too generic. The simple, common use phrase "Diamond Concierge Service" fails to distinguish the services and products offered by our businesses, from other persons and businesses which offer similar services and products.
I'm thinking that the owners of Shiraz Jewelers have confused their obtaining approval for their use of a Logo designated as a Servicemark as being a Trademark. It's possible that they're going to waste an awful lot of time and money trying to convince legitimate members of the diamond industry not to use a combination of words that is based upon a service concept that is as old as time.
I'm not even sure that the basic premise of the concept used in the creation of their logo would hold up in court if challenged. Because when I looked up the term "concierge" in the dictionary it refers to a butler or staff member of a hotel that serves the needs of the residents by providing them with various services. Thus there is nothing original or unique about using a sketch of a butler to represent this type of service… nothing.
Diamond Concierge Service web site reviews: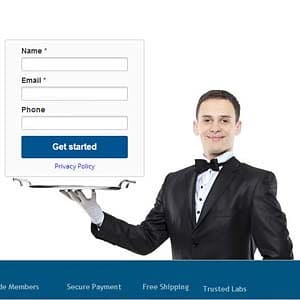 As you might expect, I visited the web site being operated for the Diamond Concierge Service offered by Shiraz Jewels, LLC., of New York. It provides what I consider to be extremely vague and basic descriptions of the services offered.
The site seems to be designed to direct visitors to a sign-up page where they are required to provide their name, email address, and telephone number to find out more about the services being offered.
At this point, I was curious about what a consumer would experience if they elected to sign-up to learn more. So I threw caution to the wind and provided the requested information via this form on their website.
Providing Diamond Concierge Service with my personal contact information, resulting in my being led down the perpetual rabbit hole of diamond quality-related questions. I imagine the questions are intended to help them better serve the needs of my personal diamond shopping experience.
Except that I found the questions to be extremely basic with a focus on carat weight, color, clarity, and shape. There was absolutely no reference as to the cut quality of the diamond… Thus I truly feel that we cater to the needs of entirely different markets. Because my entire focus is upon the diamond cut quality, level of optical symmetry, and superior visual performance which can only be found within diamonds of extremely fine make.
When does good customer service become invasive?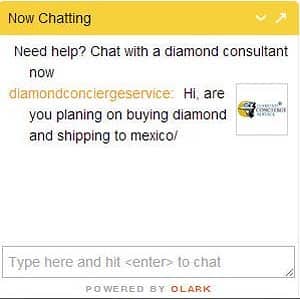 For the most part, I found the inner section of the website to be extremely basic and designed to serve primarily as a sales funnel. Within seconds of entering the inner sanctum of the Diamond Concierge Service dot com web site, this chat box popped up in my browser and asked "Hi, are you plan(n)ing on buying diamond and shipping to Mexico(?)"
Which I'm sure they view as simply trying to make themselves readily available to their customers. However, I consider this sort of thing to be an invasion of my personal space. If I wanted to chat with them, then I would request to correspond with them.
By the way, I am currently living in Mexico. So good job tracking my location by IP address, and then using it in an attempt to start a conversation with me. We record IP addresses when people submit an inquiry using our Diamond Concierge Service form, but it's more of a security thing.
Incorrect use of Diamond Grading Terminology: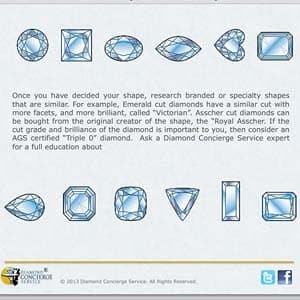 This is merely a pet peeve of mine, but it drives me nuts when professionals in the diamond industry misuse terms like AGS certified and Triple 0 diamond because the terms are inaccurate and misleading. Such terms tend to mislead consumers into believing that gemological laboratories actually certify the quality of the diamonds being graded.
Nothing could be further from the truth. Gemological laboratories such as the AGSL and GIA do NOT "certify" diamonds, nor do they issue diamond grading certificates. They issue diamond grading reports which state the characteristics of the diamond which were present at the time the diamond was graded.
In addition, you will never see the term "AGS Triple Zero Diamond" used on any Diamond Quality Document issued by the AGSL. In fact many years ago, Peter Yantzer, the lab director of the AGSL, actually asked us to write a feature article dispelling the myth of AGS Certified and Triple Zero cut diamonds. These guys should know better…
The reference to "AGS certified" / "Triple 0" diamonds clearly appears on Page 6 of the e-book (pictured above) which I downloaded from Diamond Concierge Service. The paragraph appears right after the heading "Decide on a Diamond Certificate Laboratory" which appears on Page 5 of the book titled "Top 10 Must-Knows About Buying A Diamond".
Another thing which I noticed is that "Step 9" of their diamond buying guide focuses on the benefits of "Enhanced Diamonds" which are diamonds that have been laser drilled and fracture-filled to reduce the appearance of undesirable inclusions; and/or which have been treated using High-Pressure High Heat (HPHT) to change the color of brown diamonds to white; and/or which have been irradiated to change the color of the diamond to that of a fancy-colored diamond.
While "clarity enhanced diamonds" and HPHT / Irradiated diamonds have their place in the market, they are not something which I recommend that clients purchase, nor do I represent diamonds that have been treated or enhanced. Some automobile dealers deal in salvage vehicles and others don't, if I were an automobile dealer, I'd fall into the latter category. This further leads me to believe that Diamond Concierge Service dot com and I are operating in entirely different corners of the diamond-studded universe.
Always Conduct Due Diligence when Shopping Online: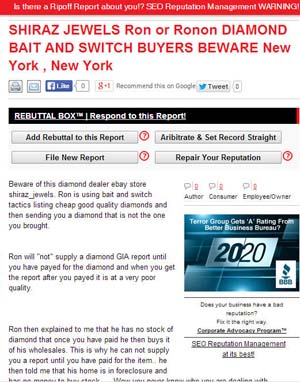 One of the things which I always do when considering spending a considerable amount of money with any online vendor, and even some brick and mortar establishments, is conducting a reasonable amount of due diligence before completing my purchase.
I want to know whether there have been any problems with this company, or unresolved customer service issues. According to the Servicemark registration filed with the U.S. Trademark Office, the Diamond Concierge Service mark which appears on the Diamond Concierge Service web site is registered to Shiraz Jewels LLC of New York.
When I conducted a search for "Shiraz Jewels NYC" I ran across this Rip Off Report filed against them. It alleges that they engaged in "bait and switch" tactics. The customer claims that he could not obtain a copy of a GIA diamond grading report, without first having to pay for the diamond because the company does not maintain physical inventory.
Obviously, I don't know whether the allegation is true, but it serves to remind us of the importance of conducting a reasonable amount of due diligence prior to paying for any product or service.
In the case of buying a diamond, I recommend maintaining a record of written correspondence between you and the vendor. It should clearly describe the characteristics of the diamond and jewelry items being purchased. Be sure that the correspondence includes basic information such as the diamond grading report numbers, clarity grades, color grades, fluorescence ratings, proportions, polish, and symmetry ratings.
One thought that I did have while reading the Rip Off Report filed against Shiraz Jewels is that if that company is not the same Shiraz Jewels that registered the service mark for Diamond Concierge Service, and which is operating that web site, then the people operating this Shiraz Jewels might want to distance themselves from the other entity which is operating under the same name in the same region. Time spent on this endeavor might serve them better than hassling legitimate members of the diamond industry over their use of the common phrase "Diamond Concierge Service".
Have you had any experience working with Diamond Concierge Service dot com? I'm curious to know the details of your experience, was it satisfactory, unsatisfactory? Did you have to pay a deposit upfront in order to convince them that you are serious about looking for a diamond? Because this thread on Price Scope infers that you might have to place a deposit to convince them of your sincerity. It seems that the person who posted the thread was asked to pay a $200 deposit to show that he was serious about working with them.
I'm hoping that it was actually a deposit intended to cover any shipping and handling costs that might be incurred while bringing a diamond in for evaluation on behalf of the customer. However, an explanation is not provided within the thread on the forum. Thus it is one more thing to take into consideration when deciding whether or not to work with this particular Diamond Concierge Service. Please post a comment below, if you've worked with this particular Diamond Concierge Service. I'd like to know more about your experience.