World renown fashion designer Vera Wang recently launched her "Love Collection" of bridal jewelry exclusively through Zales Jewelry Stores and for the most part I like the concept of the designs in terms of visual appeal.
However, I have to say that I think she missed the mark with regards to her take on what a guy should wear for a wedding band. I mean come on, do you know any physically active guy who would actually wear these wedding bands?
In my opinion, they look like diamond anniversary bands designed for women… Especially the ring with the double row of micro-set pave diamonds accented by the little sapphires on the sides with the milgrain edges. I could just see John Wayne or Clint Eastwood sporting one of these on their ring finger! Not a chance.
And in case you didn't catch the setting style from the description, I'm going to say it again "micro set pave diamonds" which means that these itty bitty diamonds are held in place by itty bitty prongs which are completely impractical for a guys ring!
The first time a guy does something manly in one of these rings, like swing a hammer, crank down on a wrench, smack his hand on something, the odds are that those little diamonds are going to pop right out of those tiny little prongs. What's the slogan for these rings? "Micro pave, it's not just for women anymore…" Hey, it's just a suggestion. Geez.
Gents Wedding Bands from Vera Wang: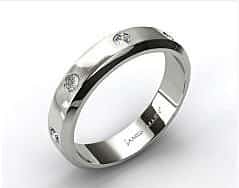 So what style of diamond wedding band should you wear? How about something which is more likely to hold up to actually being worn under real-world conditions, like this bezel set diamond wedding band from James Allen.
The eight diamonds are securely set down in the ring and they are a slightly nicer clarity and color than the diamonds used in the Vera Wang collection (SI-1 / SI-2 clarity, G/H color according to James Allen as opposed to SI-2 / I-1 clarity, H/I color as stated on the Zales web site).
The beveled edge of the ring is likely to hold up much better than the milgrain edge used on the gents wedding rings from Vera Wang which will eventually wear down. If you're looking for something unique and don't want diamonds in your ring, be sure to check out the carved wedding bands available from James Allen.
Brushed Gents Wedding Band from Brian Gavin: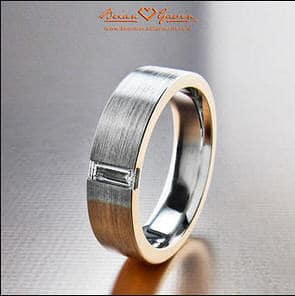 This Flat Brushed Band from Brian Gavin Diamonds is also very cool and masculine looking. I really like how the brushed finish sets off the baguette cut diamond that are channel set into the ring.
Of course Brian Gavin also offers a wide variety of classic men's wedding bands in a variety of styles and they have an excellent custom jewelry department if you have something special in mind.