This post aims to determine whether a J color diamond looks yellow in an 18k rose gold setting. The post is inspired by the following client inquiry: "Hi Todd, I've really enjoyed reading your web site and am learning a lot about diamonds. One of the options which I am considering is the round square halo setting from Brian Gavin in 18k rose gold, set with a J color diamond.
My girlfriend has indicated that she prefers diamonds with warmer tones. The dilemma I am having is that I don't want the diamond to look visibly yellow, and I've read that diamonds can pick up the color of the setting.
Does that mean that diamonds set in rose gold look yellow or pinkish-yellow? I'm not married to this idea yet, so feel free to blog about it, but I'd appreciate any recommendations you might have in the range of 1.40 – 1.60 carats." — Chad K.
How do settings affect the color of diamonds?
The first thing to realize is that our perception of diamond color is just that, perception… each person will interpret the color of diamonds differently, based upon their own individual perception of the tonal value of the diamonds which they are evaluating.

Take a look at the photograph of diamond colors provided above, which features diamonds which range in color from D to J, which I borrowed from the diamond color grading tutorial provided by Brian Gavin, you should be able to clearly discern the difference in the intensity of color between the D and J color diamonds. However the difference between each individual color grade is not as easy to distinguish, especially if we were viewing the diamonds from a top-down perspective, as they are set in jewelry.
It should also be noted that the diamond colors presented in the photograph above are not accurate representations of diamond color, they are affected by a variety of variables such as the lighting temperature that was present in the room when this picture was taken, the resolution of the photograph, the calibration of your computer monitor, etc., and they all look kind of warm on my monitor as compared to what I expect diamonds of this color range to look like… so don't be trying to use this photograph to decide what color diamond you should buy for an engagement ring!
In my experience, the color of a setting has the tendency to affect the color of a diamond by one grade; so setting a J-color diamond in a white gold, palladium, or platinum ring, will have the effect of making it face-up more like an I-color diamond; while setting the same J-color diamond in a yellow gold or rose gold setting, will have the effect of making it face-up more like a K-color diamond.
So the odds are that if you set something like this 1.483 carat, J-color, SI-1 clarity, Brian Gavin Signature round ideal cut diamond in the round square halo setting pictured above, it is going to pick up a little bit of color from the rose gold setting… Do I see that as a problem? Not at all because (1) you indicated that your girlfriend prefers diamonds with warmer tones; and (2) I happen to think that diamonds look great set in rose gold and kind of like the subtle undertones that the setting adds to the appearance of the diamond.
Brian Gavin Signature Diamond Review: AGSL 104069928011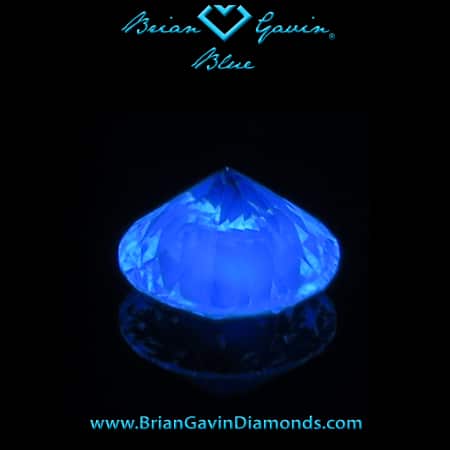 I saw this while conducting a search for Brian Gavin Signature diamonds the other day, and can't believe that somebody hasn't purchased it already! The savings that it offers because it weighs just under the 1.50 carat mark is substantial ~ plus there is a price increase that occurred last week and I have it on good authority that Brian Gavin hasn't adjusted their prices… yet! One of the things which I love about this 1.483 carat, J-color, SI-1 clarity, Brian Gavin Signature round diamond is that it exhibits the beautiful medium blue fluorescence pictured to the left which was taken while the diamond was being exposed to black light, the diamond will face up white when viewed in normal lighting.
The proportions of this diamond are smack dab in the middle of the spectrum designated for the zero ideal cut proportions rating from the American Gem Society Laboratory (AGSL) and as a result it is going to exhibit a virtual balance of brilliance and dispersion with a high volume of light return! And the 77% lower girdle halves should produce nice, bright, broad flashes of light… actually I know that they do because I just asked Brian about this diamond and he assured me that it is spectacular and exhibits all the visual properties that he knows I expect to see in a diamond of this cut caliber!
The diamond has an overall cut grade of AGS Ideal-0 and looks great in all of the reflector scope images that we rely upon to judge the optical symmetry of a diamond, and I'm told that the diamond is eye clean, which makes it even more appealing to me since not all SI-1 clarity diamonds will be "eye clean" when viewed from a distance of 9 – 12 inches.
You could wait for something to become available in the range of 1.50 – 1.60 carats, in the J-color range, from Brian Gavin, but I have to say that I think that this 1.483 carat, J-color, SI-1 clarity, Brian Gavin Signature diamond presents a tremendous deal, and that it will look exceptional set in the round square rose gold halo! With every indication that diamond prices are going to continue to go up over the next few months, I'm not so sure that I would wait for something larger to come along.