"Hi Todd, I've read your reviews of both Ritani and Brian Gavin and am trying to choose between this 0.82 carat, F-color, VS-1 clarity, round brilliant from Ritani and this 0.822 carat, F-color, VS-1 clarity, Brian Gavin Signature Round Hearts & Arrows Diamond."
"I'm not sure why, but the Brian Gavin Diamond is more expensive. How much of a premium does Hearts & Arrows command? I like the fact that I can have the Ritani diamond shipped to a local jewelry store so that I can see it, but does that mean I'm going to have to pay sales tax? What would you recommend for a setting? My girlfriend likes this Halo Setting from Brian Gavin, but will they set the Ritani Diamond? — William G."
Brian Gavin vs Ritani Diamond Comparison: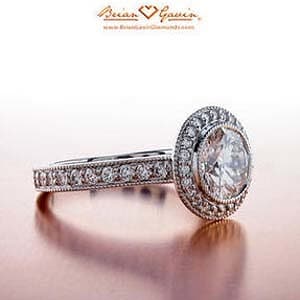 Let me guess… Your girlfriend found this Halo Setting on Brian Gavin and the 0.822 carat, F-color, VS-1 clarity, Signature Hearts and Arrows Diamond, and then you thought you'd shop around and now you're all confused. I'm only asking because I answered an email about this diamond and ring combination for a woman just a few days ago and she also asked about Ritani and wanted to know if I had any recommendations from their inventory, I mentioned that this 0.82 carat, F-color, VS-1 clarity, GIA 3X, from Ritani is the closest option currently available from them. The diamonds are similar in terms of carat weight, color, and clarity, but there are some distinct differences.
The GIA versus the AGS Laboratory:
A lot of people assume that a round brilliant cut diamond graded by the Gemological Institute of America (GIA) with an overall cut grade of GIA Excellent, is the same as a round brilliant cut diamond graded by the American Gem Society (AGSL) with an overall cut grade of AGS Ideal-0, however this is not an accurate assumption.
First off, the AGSL uses proprietary Angular Spectrum Evaluation Technology (ASET) to measure the brightness of a diamond and to determine how a diamond is making use of the light which is available to in within the room. While a vendor might be able to photograph a diamond through an ASET Scope and send you an image, the fact is that it is going to show you how the diamond looks at the best vantage point possible, which is at 90 degrees as seen through the desk version of the scope. However, the results provided on the AGSL Proprietary Light Performance Diamond Quality Document are based upon an actual scan of the diamond, which basis its results on scans of the diamond taken at several different vantage points.
While the grading standards are similar for the GIA Excellent and AGS Ideal ratings for Polish & Symmetry, the parameters for the proportions ratings from the GIA and AGS are entirely different… In my opinion, you could drive a truck through the requirements for the GIA Excellent proportions grade, things are much tighter over at the American Gem Society Laboratory.
However, I don't really care about that, because I rely on my own selection criteria for proportions and it tends to rest right in the middle of the range specified by the AGSL for their zero ideal cut proportions rating. While there are several combinations of crown and pavilion angle which work well, I tend to prefer round brilliant cut diamonds with a crown angle between 34.3 – 34.9 degrees and a pavilion angle between 40.6 – 40.9 degrees.
Comparing the Characteristics of the Two Diamonds:
All right, so the 0.82 carat, F-color, VS-1 clarity, round brilliant ideal cut diamond from Ritani which has an overall cut grade of GIA Excellent measures 6.05 – 6.08 x 3.69 mm with a total depth of 60.7% and a table diameter of 56% with a crown angle of 34.0 degrees which is offset by a pavilion angle of 40.8 degrees with a medium, faceted girdle and no culet. The diamond grading report is in the format of a GIA Diamond Dossier, which lacks a plotting diagram so we have no idea of where the cloud is located… but that's not really an issue with a VS-1 clarity diamond, because it is going to be very slight.
The 0.822 carat, F-color, VS-1 clarity, Brian Gavin Signature Round Brilliant Cut Diamond with a Crisp and Complete Pattern of Hearts & Arrows is graded by the AGSL with an overall cut grade of AGS Ideal-0 ~ which puts it in a higher classification of overall cut quality in my opinion because of the additional Light Performance rating which is not provided by the GIA.  The diamond measures 6.05 – 6.07 x 3.68 mm with a total depth of 60.8% and a table diameter of 57% with a crown angle of 34.9 degrees which is offset by a pavilion angle of 40.8 degrees with a thin to medium, faceted girdle and a pointed culet. The primary inclusions are indicated as being a diamond crystal and a pinpoint size diamond crystal, which are indicated on the plotting diagram to the left side of the table facet.
The two diamonds have virtually the same outside diameter, so they are going to face up exactly the same size, and the total depth and table measurements are quite close to each other. However the crown angle is only 34.0 degrees on the Ritani diamond, which is a little shallower than I prefer, but the saving grace is the 40.8 degree pavilion angle, which is the primary reflective surface in terms of directing light back up towards the viewer, so the diamond is still a contender as far as I'm concerned. The crown angle has more to do with dividing the light into different types of light return, brilliance and dispersion, and if I had to guess, I'd venture to say that this diamond exhibits a little more brilliance than dispersion… and that the one from Brian Gavin is going to exhibit more of a balance of brilliance and dispersion.
Which is right for you? It depends on whether you prefer to see more brilliance or dispersion in a diamond, or more of a balance of the two, and people have different taste when it comes to this… but keep in mind that we're splitting hairs between diamonds which are within the Top 1% of the annual production for round brilliant cut diamonds, so either one is going to blow the average diamond that you'll see in an engagement ring out of the water!
The Effect of Optical Symmetry Upon a Diamond:
Now the one thing that we can't judge on the Ritani diamond is the precision of optical symmetry, because they don't provide any of the reflector scope images that Brian Gavin provides on their diamond details pages… without an Ideal Scope image and a Hearts and Arrows Scope image, I can't provide any insight into the consistency of facet shape, size and indexing.
This is a critical part of the diamond selection process because optical symmetry has a direct impact upon the visual performance (sparkle factor) of a diamond. The fact that the 0.822 carat, F-color, VS-1 clarity, Signature Diamond from Brian Gavin exhibits a crisp and complete pattern of Hearts & Arrows tells me that the optical symmetry of the diamond is near perfect because otherwise, the pattern would be inconsistent.
There is a premium for diamonds which exhibit a crisp and complete pattern of hearts and arrows because it takes a lot more skill and time to produce diamonds with this level of cut precision, so the slightly higher price of the Brian Gavin Diamond is not surprising to me. You can't really compare the two diamonds, because they are not quite in the same cut classification, it's like one of them is turbocharged and the other is not, but they are both likely to be beautiful diamonds.  It's just a matter of which one appeals to you most in terms of overall cut quality, characteristics and price.
Choosing Between Halo Settings:
All right, I know that your girlfriend is looking at this Custom Halo Setting from Brian Gavin and this French Halo Setting from Ritani and there is a major difference in price, because the version from Brian Gavin has a total diamond weight of approximately 0.75 carats, in F/G color, VS clarity, Brian Gavin Signature Melee Diamonds, and the version from Ritani has a total diamond weight of about 0.21 carats, in what I imagine are the same color and clarity, because that is pretty typical of designer jewelry of this caliber. And the price for the Brian Gavin Halo is based on a ring made of 18k white gold, while the one from Ritani is based on a ring made of 14k white gold. Here again, it's like we're comparing Apples & Oranges.
If the total price for both completed rings are within the price range which you've specified for this project, then I'd just ask your girlfriend which ring she prefers… If you order the Ritani ring online, they'll set the diamond in the ring and ship it either direct to you, or to an authorized Ritani retailer in your area for you to pick up. You'll definitely have to pay sales tax, because it is applicable if there is an authorized agent for Ritani located in your state… You'll only have to pay sales tax on the Brian Gavin purchase if you happen to reside in Texas and/or have the ring shipped to a destination within Texas, although you're probably supposed to pay sales tax for any substantial purchases made over the internet, unless you live in one of the states which does not yet have a sales tax system in place… you'll have to ask your accountant about that, I'm a diamond expert, not a tax consultant 😉
I think this is the first time that I've written a Brian Gavin and Ritani Diamond Comparison, I'll be interested to learn which option you decide to go with, be sure to let me know.