I just happened to run across this 1.400 carat, I-color, VS-2 clarity, Brian Gavin Signature round diamond with medium blue fluorescence. It just cleared the AGS Laboratory on the 15th of March. I can't believe that somebody hasn't snagged this puppy yet! Anything this well cut in the range of 1.40 – 1.49 carats is extremely difficult to come by!
I recently had a client ask me whether medium blue fluorescence in an I-color diamond was something to be concerned about, so I thought it would be a good idea to address this question in a blog post. This diamond from Brian Gavin seems like the perfect place to start.
Brian Gavin Blue Diamond Review: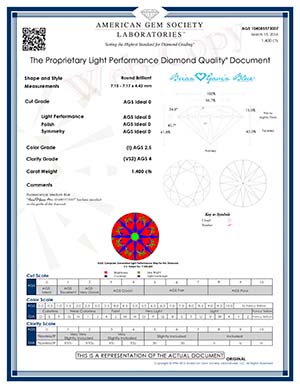 If you haven't already purchased this 1.400 carat, I-color, VS-2 clarity, Brian Gavin Signature round diamond with medium blue fluorescence, please take a moment to do so now. Seriously, I'm not kidding. If you happen to be looking for a truly stunning super ideal cut diamond in the range of 1.40 – 1.49 carats, buy this one before it disappears right before your eyes! Diamonds in this weight category are extremely rare, especially ones cut this nicely.
As you can plainly see from the ASET image, the light is being reflected evenly throughout the diamond. There is lots of red, which indicates that the majority of light being reflected by this diamond is being gathered from the brightest light available to it from within the room. The color green represents light being gathered from the second brightest light source in the room. Notice that it is also being evenly distributed throughout the diamond. Blue represents contrast, which is what makes it possible for us to see and appreciate different depths of light being reflected within the diamond. The proportions are spot-on.
You can expect this diamond to exhibit the highest volume of light return, and produce a virtual balance of brilliance (white sparkle) and dispersion (colored sparkle). The sparkle will be what I refer to as "broad spectrum" which means that it is larger in size, and bolder, brighter, and more vivid than what the average ideal cut diamond is likely to exhibit. This is due to a combination of the higher degree of optical precision and the lower girdle facet length being between 75 – 78%.
[maxbutton id="4″]
Medium Blue Fluorescence in I-color diamond:
This diamond is I-color and exhibits medium blue fluorescence. People frequently ask me whether they should be concerned about blue fluorescence within a diamond. I've examined and purchased thousands upon thousands of diamonds which exhibited blue fluorescence. I've only seen a few diamonds that exhibited any negative traits due to blue fluorescence, and every one of those exhibited very strong to distinct blue fluorescence. The negative traits exhibited by those diamonds were that they appeared to be a bit "over-blue" due to the extremely high concentration of blue fluorescence.
It is highly unlikely that diamonds which exhibit medium to strong blue fluorescence are going to exhibit any negative traits due to the degree of fluorescence. If the blue fluorescence has any impact upon the diamond at all, it is more likely to make the diamond face-up a bit whiter and brighter than it would without fluorescence. For this reason, practically every diamond which I have ever purchased for myself, has exhibited medium to strong blue fluorescence.
Medium Blue Fluorescence Discount:
Another benefit of blue fluorescence is that it tends to provide a slight discount. The discount for blue fluorescence is a left over remnant from the 1970's when an Asian investment firm decided not to include diamonds with fluorescence in parcels of "investment diamonds" that they were offering their clients at the time. That decision created a glut of blue fluorescent diamonds, which in turn were offered at a discount to make them more enticing to brick and mortar jewelry stores buying for stock.
Unfortunately some people interpreted the discount to mean that diamonds with blue fluorescence are less desirable than diamonds with negligible fluorescence.  Stories started to spread about how blue fluorescence in diamonds was a bad thing, how it made them appear cloudy, foggy, and milky. Which is largely untrue and occurs in fewer than 2% of gem quality diamonds according to an in-depth study conducted by the Gemological Institute of America. The negative impact referred to was limited to those few diamonds which contain such high amounts of fluorescence as to appear over-blue (very strong to distinct blue).
Personally, I think that all this fuss and hyperbole about blue fluorescent diamonds is a good thing… it ensures that they continue to be offered at a discount, which I'm more than happy to take full advantage of whenever I buy a diamond for myself! But just in case you find yourself sucked-in by all the lore and myths that surround blue fluorescent diamonds, rest assured that Brian Gavin personally evaluates every Brian Gavin Blue Signature diamond to ensure that the blue fluorescence is not having any negative impact upon the visual properties of the stone.
[maxbutton id="3″]
If you found this diamond buying tutorial about the effect of medium blue fluorescence in an I-color diamond interesting, be sure to leave a comment below. And be sure to take advantage of my free Diamond Concierge Service if you'd like help finding a diamond, or just want a second opinion on a diamond that you're considering.