The Olympus Collection of Engagement Rings by Brian Gavin looks absolutely stunning! There are eight rings featured in the gallery, each one is named after a different mythological Goddess.
Of course, I've got an exclusive Brian Gavin coupon code to save you some $$$ on the ring! Just drop me a note via my Diamond Concierge Service to request the Brian Gavin Discount Code.
The rings are available in platinum, 18k white gold, 18k yellow gold, and 18k rose gold; and feature BGD Signature melee diamonds, so the accent diamonds will be as bright and white as the center stone!
The Juno Solitaire by Brian Gavin, Part of the Olympus Collection: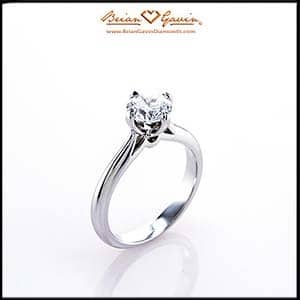 Juno is an ancient Roman God who served as the protector and special counsel of Rome, she is the daughter of Saturn, but also the wife of Jupiter, and the mother of Mars and Vulcan.
Juno is said to have looked over the women of Rome, which makes the Juno solitaire by Brian Gavin the perfect engagement ring for today's take charge woman, who wants a ring that exhibits a certain flair that is as unique as her own spirit.
This 4 prong solitaire features a unique u-prong design that reminds me of the 6 prong head that is part of the Brian Gavin Tiffany knife edge style solitaire, but which people often ask for in a 4 prong configuration that has never been offered.
The ring style itself seems to be based upon the premise of a traditional cathedral style engagement ring, but Brian Gavin has spiced it up a bit and given it more flair.
The four prong head configuration is definitely going to be popular with people who like the look of the six prong head that is the center piece of the Classic Tiffany Knife Edge style solitaire by Brian Gavin.
This is not an exact replica of that prong configuration, however, it is close enough that when I first looked at the ring, my mind immediately flashed on the head configuration for the classic Tiffany solitaire.
I've had a lot of people request the Classic Tiffany Solitaire in a four-prong configuration over the years, and there has never been a suitable option to offer them as an alternative, well here it is. I think that the Juno solitaire by Brian Gavin is going to be a very popular ring indeed!
The Freya solitaire by Brian Gavin is sure to be a hit!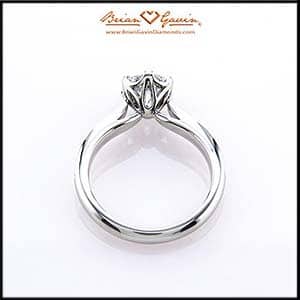 As much as I love the look of the four-prong head configuration and style of the Juno solitaire by Brian Gavin featured above, I'm absolutely smitten with the head configuration incorporated into the Freya Solitaire by Brian Gavin which is pictured to the left.
From every vantage point that I view the Freya Solitaire, it seems to be comprised of flowing lines that remind me of the most delicate flowers, it is simply awe-inspiring and I think that I could look at it for days on end.
The new 360 degree video of the rings that Brian Gavin provides on the details page makes that possible! The Freya Solitaire is also available with pave set Brian Gavin Signature melee diamonds as style number 5984.
What is Brian Gavin Signature melee diamonds?
The word "melee" pronounced "mel-lee" is used to generally used by the diamond industry to describe diamonds weighing less than 0.20 carats, the majority of melee is cut to proportions which is only good, whereas Brian Gavin Signature melee diamonds are cut to the same ideal cut proportions that enable larger Brian Gavin Signature round diamonds to exhibit the highest volume of light return and sparkle that is incredible.
In addition, Brian Gavin Signature melee diamonds are cut to the same degree of optical symmetry as larger Brian Gavin Signature round diamonds, which gives them the kind of sparkle that people notice from across the room!
And yes, it is possible to see a difference in the visual performance of diamonds this small, which is why I encourage my customers to buy their engagement ring from Brian Gavin, my primary focus has always been upon the overall volume of light return and the sparkle factor of the diamonds, and to that regard, there is no better choice.
What color and clarity is Brian Gavin Signature melee?
Brian Gavin produces all of his Signature melee diamonds in VS clarity and F-G color, because it provides an excellent middle ground that balances well with diamonds of all colors that might be selected as a center stone.
People often ask me whether it is important to match up the clarity and color of the accent diamonds in the ring, to the color and clarity of the diamond which is selected to be the center stone of the ring, and the answer largely depends on the overall cut quality of the diamonds.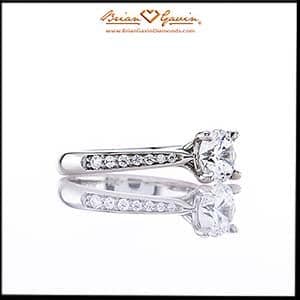 In my experience, diamonds that are cut to the combination of proportions and exceptional degree of optical symmetry that is an inherent trait of Brian Gavin Signature round diamonds.
For that reason, they exhibit a higher degree of light return and sparkle factor, thus it can be much more difficult for people to ascertain the actual body color of the diamond from a top-down perspective.
As such, it is not likely that people will be able to distinguish the difference between something like this 1.947 carat, I-color, VS-2 clarity, Brian Gavin Signature round hearts and arrows diamond, and the F-G color, VS clarity, Brian Gavin Signature melee diamonds that are set in a ring like the Gaia pave set solitaire by Brian Gavin.
This is not to say that there will not be a color difference between the 1.947 carat, I-color, VS-2 clarity, Brian Gavin Signature round diamond and the F-G color accents that are set in the ring, just that the color difference will not be readily apparent to most people, because the difference in color is very slight when viewed under normal lighting circumstances, especially when viewed from a top-down perspective.
Keep in mind that diamonds are graded for an absence of color, not the presence of color, and they are graded from a side-profile in a room which is completely dark, except for the little bit of light which is coming from the GIA Diamond Light; under these special circumstances, the slight difference between diamonds of this color range is easier to detect.
Another factor that comes into play is the reality that the center stone is usually significantly larger than the accent diamonds set in the ring, thus the volume of light return seems to be higher, and the volume of brilliance and dispersion seems to be higher, and thus our eyes tend to automatically be drawn to the center stone, and we are less likely to be able to clearly focus upon the accent diamonds.
What sets Brian Gavin apart from other jewelry designers:
Let's face it, jewelry designers are a dime a dozen online. Anybody and everybody who can afford to buy the software required to design custom rings on a computer is suddenly a jewelry designer…
But rest assured that some custom jewelers are definitely better than others, and Brian Gavin's experience as a fifth-generation diamond cutter and jewelry designer makes his production among the best!
I had the privilege of touring Brian Gavin Diamonds in August of 2013, and the custom jewelry fabrication division is state-of-the-art. I've got more than 35 years of experience as a diamond buyer for the trade.
In that case, I've seen the backrooms of a lot of jewelry stores and workshops of jewelry designers, and Brian Gavin's is by far the most impressive that I've ever seen.
Not only is the jewelry design and jewelry casting and fabrication equipment top-notch, but so are the jewelers who work for Brian Gavin, I sat bench-side with a few of them just so that I could watch how they polished the rings, and set the diamonds, and I was impressed.
It's clear to me that Brian Gavin is very serious about producing custom jewelry of the highest quality, and I'm quite confident that every client who I refer to them for a custom engagement ring is going to be tickled pink.
So there you have it, an in-depth review of the new Olympus Collection by Brian Gavin, featuring eight brand new engagement ring designs that are sure to please!
Drop me a note via my free Diamond Concierge Service if you'd like me to email you the exclusive Brian Gavin coupon code that provides my clients with exclusive savings on rings ordered from Brian Gavin in conjunction with a Brian Gavin Signature diamond.
And by all means, let me know if you'd like my assistance selecting the best option currently available from Brian Gavin's diamond inventory.