Brilliantly Engaged offers beautiful engagement rings direct to the public from the Diamond Tower on 5th Avenue. That is smack dab in the middle of the New York diamond district. They specialize in:
AGS Ideal cut diamonds
GIA Excellent cut diamonds
Hearts & Arrows diamonds
Mark T's Modern Cushion cut diamonds
Royal Chandelier Cushion cut diamonds
X-factor Cushion cut diamonds
They also offer custom jewelry design services and are one of the few jewelers who produce hand-forged jewelry. That means that they design each piece of the ring entirely by hand.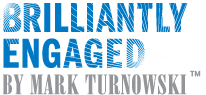 Hand-forged custom engagement rings In the Heart of the Diamond District AGS Ideal and GIA Excellent diamonds Cushion Cut Diamond Specialists
Brilliantly Engaged vs Engagement Rings Direct:

Brilliantly Engaged is the new and improved version of Engagement Rings Direct. It is important to understand this, so that you don't think this is a brand-new company. It is owned by Mark Turnowsky and ERD used to be one of our primary competitors. As you might imagine, I'm familiar with their reputation for excellence. You've got to admit that 9.5 out of 10 Stars is a fantastic rating!
However, this doesn't surprise me at all. I've known Mark Turnowsky of Brilliantly Engaged for years and he's a stand-up guy. I had the opportunity to call Mark about a diamond a few weeks ago. I was so happy to discover that Chris Anadiotis was now working with him. Chris is another well-known veteran of the diamond industry. He is the former Director of Sales and Marketing for D. Vatche. Chris used to handle our account and oversee the orders for the Vatche rings we sold in our store!
I like working with these guys, because we have history that goes way back. As you're about to discover, the combined experience of these guys is mind blowing. And it doesn't hurt that they're located right in the heart of the New York Diamond District. How does that benefit you? I'm glad you asked, because (of course) I'm going to tell you!
Brilliantly Engaged has Super Powers:
There are probably a million diamond brokers in New York City. So you might think:
"Big Freaking Deal, Brilliantly Engaged is in New York City. Earth Shattering News!"
The fact that Brilliantly Engaged is in the Diamond Tower on 5th Avenue might not seem like a big deal. However, what you don't know (yet) is that Brilliantly Engaged has a secret super power!
Brilliantly Engaged has the imaging system necessary to provide us with reflector scope images! This means that you'll be able to look beyond the basic details of the diamond grading report, and judge the degree of optical precision. Very few diamond dealers in New York actually possess the ability to provide these images for us.
Brilliantly Engaged can provide us with:
• ASET Scope images
• Hearts & Arrows Scope images
• Ideal Scope images
This means that we can get reflector scope images for "virtual diamonds" found on the multiple listing service. But only when the diamond is located in New York city. Because in that event, Mark or Chris can run up the street and pick it up from whichever diamond dealer has it. Unfortunately this won't help us with virtual inventory diamonds from other countries, but this is a step in the right direction!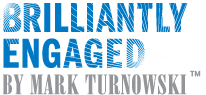 Hand-forged custom engagement rings In the Heart of the Diamond District AGS Ideal and GIA Excellent diamonds Cushion Cut Diamond Specialists
How to Search for Diamonds on Brilliantly Engaged:
The secret to conducting an effective search on Brilliantly Engaged lies in knowing how to set up the advanced parameters. Naturally, we're going to use my preferred selection criteria as outlined in the article 15 Seconds to Diamond Buying Success. For the sake of this example, I'm going to assume that you're shopping for a round diamond:
Click on the Brilliantly Engaged banner above.
Check boxes for both Round and H&A diamonds.
Adjust the slider for Carat Weight.
Select your range of Color.
Move the slider for Cut to Excellent / Ideal.
Choose your range of Clarity.
Click on the Plus+ Sign by Advanced Criteria.
Check the Boxes for Polish, Symmetry, Depth, Table
Adjust the slider for Polish to Excellent.
Adjust the slider for Symmetry to Excellent.
Set the Total Depth between 59 – 61.8%
Set Table Diameter between 53 – 57%
The parameters you want to use to search for diamonds on Brilliantly Engaged should look like this: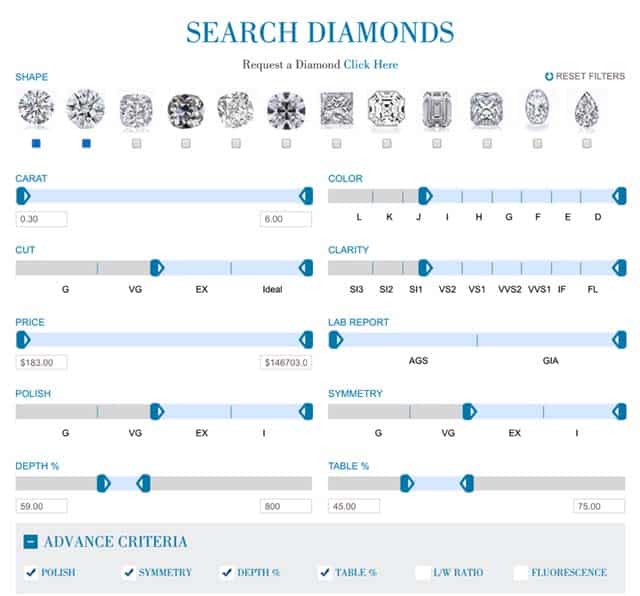 The Nitty Gritty Details of Diamond Shopping:
The next thing you're going to want to do is get into the Nitty Gritty Details of Diamond Shopping. You're going to want to look at the specific combinations for crown and pavilion angle. In order to do this, simply:
Right click your mouse over the "Details" link for each diamond.
Select "Open Link in New Tab"
Click on Each New Tab in your browser.
Click on Link to View Certificate.
You want to choose a crown angle between 34.3 – 35.0 degrees, if you prefer a virtual balance of brilliance and dispersion. If you think you might prefer a little more brilliance, then choose a diamond with a shallower crown angle. If you prefer a little more dispersion, then go with a slightly steeper crown angle.
Crown angle measurements can be a little more flexible, since they primarily affect the balance of brilliance and dispersion. However I definitely recommend adhering strictly to a pavilion angle between 40.6 – 40.9 degrees for maximum light return.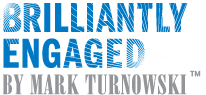 Hand-forged custom engagement rings In the Heart of the Diamond District AGS Ideal and GIA Excellent diamonds Cushion Cut Diamond Specialists
In House H+A Diamonds from Brilliantly Engaged: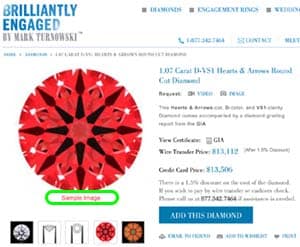 I was a little surprised that the details pages for the "In House H+A Diamonds" offered on Brilliantly Engaged did not feature actual reflector scope images. Notice the green outline highlighting "Sample Image" beneath the Ideal Scope image pictured here.
Obviously you're going to want to evaluate the actual reflector scope images before buying a diamond from any vendor. You're specifically going to want to see the ASET Scope, Ideal Scope and H&A Scope images for the diamond. Getting them is easy enough, just reach out to Mark and Chris and ask them to push this diamond to the front of the pile being photographed.
Background on Brilliantly Engaged:
It goes without saying, that it's nice to know the person behind the company that you're going to be buying a diamond from. After all, the company is just a shell and at the end of the diamond, you're buying a diamond from the man.
As I understand it, Mark Turnowski began his gemological career in 1976. He was a senior staff member at the Gemology Institute of America (GIA) in New York. He left the GIA to become a private consultant to the diamond industry.
Mark is well known for his ability to analyze diamonds to determine whether they are good candidates for being re-cut. The goal is to maximize their clarity and cut quality, while increasing the value.
At one time, Mark was the Laboratory Director of the International Gemological Institute (IGI). He's also consulted for numerous accounting firms such as Peat Marwick and Arthur Anderson.
From Diamonds Wholesale to The Public:
Mark started his own jewelry design company, MTI Designs in 1996. They were a custom design jewelry firm for the industry. They made unique couture rings, earrings, necklaces and pendants for stores like Nieman Marcus and Saks Fifth Avenue.
It wasn't long before Mark got the bug to create a new line of women's jewelry. His goal was to create designs that were both affordable and suitable for everyday wear. Mark launched his custom line of classic bridal settings and fashion jewelry in 1999. The majority of designs featured cushion cut diamonds and the line was a huge success! A new collection of diamond engagement rings was born.
This led to the launch of Engagement Rings Direct in 2001. Mark made it a point to name every ring design after the person who the ring was being made for. You can imagine how this practice made him quite popular as a custom jeweler online.
The Transition from Engagement Rings Direct:
After many successful years, Mark decided to re-name the brand from Engagement Rings Direct to Brilliantly Engaged. Due to the importance of this decision, he consulted with Milton Glassier, the renowned Graphic Designer who created the "I Love New York" logo.
The relationships that Mark has developed throughout the years, enable him to find exceptional diamonds for his clients. The hands-on approach that Brilliantly Engaged provides their clients is a critical component to your success buying a diamond.
While you have access to more diamond education than ever before, the reality is that few people know how to interpret the details. Attempting to compare diamonds by the characteristics and price can be frustrating and futile. What you really need is to establish a relationship with a diamond dealer you can trust.
Mark and Chris have the experience to help you determine the best combination of characteristics for your individual needs. They can help you navigate the extensive options available within their dealer network. Then they'll bring that diamond in for physical evaluation to ensure that it meets their selection criteria.
Engagement Rings Direct from Brilliantly Engaged: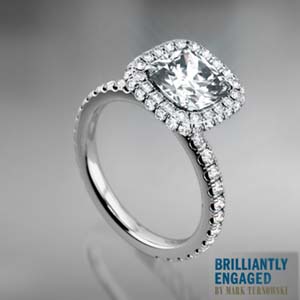 Because Brilliantly Engaged is located smack-dab in the middle of the diamond district, they have access to an extensive selection of jewelers and diamond setters. This means that they can provide you with access to a myriad of classic engagement rings in all the usual styles. Or they can work closely with CAD Designers to custom design a ring that fits your personality and budget. The Auden setting pictured to the left is one of their custom design engagement rings.
As you expect, Mark and Chris will consult with you at every stage of the ring design process. You'll get to see the CAD renderings and the plastic resin models. This way you'll know exactly what to expect and there will be no surprises. These stages of development exist to guarantee your satisfaction. It also demonstrates their commitment to you and your dream ring.
For those seeking that extra touch of brilliance and refinement, Brilliantly Engaged offers hand-forged jewelry. Most jewelry is cast from a model or a mold, whereas hand-forging jewelry involves creating it from the metal.
The process of hand-forging an engagement ring requires incredible attention to the smallest details. The jeweler will manipulate the metal and and curl it into shape. Then it is drawn through various gauges to produce the clean and precise lines necessary to create the perfect ring.
As you can probably imagine, it is more expensive to hand-forge jewelry as compared to casting it. However the process ensures that every engagement ring is individual and unique.
Selecting the Best Diamond from Brilliantly Engaged:
While I have no doubt that Mark and Chris are capable of assisting you with selecting just the right diamond from inventory. I always like to extend the invitation to take advantage of my free Diamond Concierge Service.
Be sure to tell Mark and Chris at Brilliantly Engaged that you read about them on Nice Ice. We always want to know how our customers found us, and why you chose to do business with us. Thank you.