Once you've purchased the engagement ring and started to plan the wedding, it's probably not going to be long before you begin to wonder "Where is the best place to buy wedding bands?" and the answer of course is online, because online vendors of diamonds and jewelry offer the best selection and prices.
The vendors which I work with to provide you with the best deals on diamonds and jewelry like wedding bands, offer an extensive selection of men's and women's wedding bands, in a variety of metals, such as platinum, white gold, yellow gold, and alternative metals, such as tungsten and titanium. And you can't beat their prices because their overhead is so low!
I really like the look of this classic grooved wedding band from James Allen it measures about 6 mm wide, and is made with 18k white gold, but it's also available yellow gold, 14k white or yellow gold, and platinum. And if you don't happen to know your ring size, you can use their online tool to measure your finger, or you can just ask them to send you a free ring sizer! Just click on the link provided on the page, and they'll send one right out to you!

Of course, you can also shop for wedding bands at Blue Nile which is one of the largest online retailers of diamonds and engagement rings! One of my favorite bands is the 6 mm comfort fit wedding band, because the inside of the ring is slightly rounded, which makes it really comfortable to wear!
I used to sell a lot of comfort fit wedding bands to men who were not accustomed to wearing jewelry, because the rounded edge made the ring feel less rigid against their finger, and thus made it more comfortable for them to wear.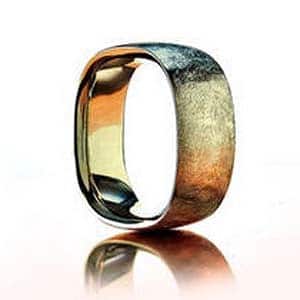 Brian Gavin carries a wide selection of both men's and women's wedding bands in all of the traditional styles, and in all of the usual alloys.
However, they also offer a great selection of designer wedding bands which are a bit more interesting, like this handcrafted, 8 mm wide, wedding band by Sholdt which features a really cool "German finish" which will help to hide scratches.
It also makes the ring look more rugged! The outline of the ring is slightly square in shape, which will prevent it from spinning so much on the finger, if you're not used to wearing rings, this is a great design!
When comparing prices for wedding bands online, keep in mind that price is always a reflection of the total gram weight of the piece, in addition to the quality of construction. While it seems relatively easy to compare prices by metal type and millimeter width, the reality is that the depth of the band, in terms of thickness, must also be taken into account!
For instance, one of the manufacturers that I used to work with, manufacturers a 6 mm "comfort fit" wedding band in a light version, a medium weight, and a heavy version. Obviously the prices are different for each ring, because the light version weighs about half of what the heavy version of the ring weighs.
Thus, the prices for each ring would also be dramatically different. So don't just shop for rings based on price, feel free to ask each vendor the weight of the ring in grams, so that you can make an accurate comparison and find yourself the best deal!