The exciting, new 810 Collection from Brian Gavin is here! The free online custom ring builder that enables you to design your dream engagement ring in 5 easy steps!
To illustrate how each it is to use this ring builder, we're going to custom design a ring in the next five minutes. I encourage you to follow along step-by-step, but feel free to adjust things according to your preferences. After all, we're talking about designing your dream ring! Click on the banner below to get started:
Using the 810 Collection Ring Builder:
The 810 Collection ring builder by Brian Gavin enables you to design an engagement ring with a few clicks of your mouse. The premise is quite simple, however the possibilities are endless. We're going to custom design your e-ring online by moving through these 5 easy steps:
Select the Type of Ring
Choose the Head Style
Pick a Shank Style
Choose Rounded or Euro Shank
Select the Center Stone
It doesn't get any easier than that, does it? All right, let's get started!
810 Collection Ring Builder – Step 1: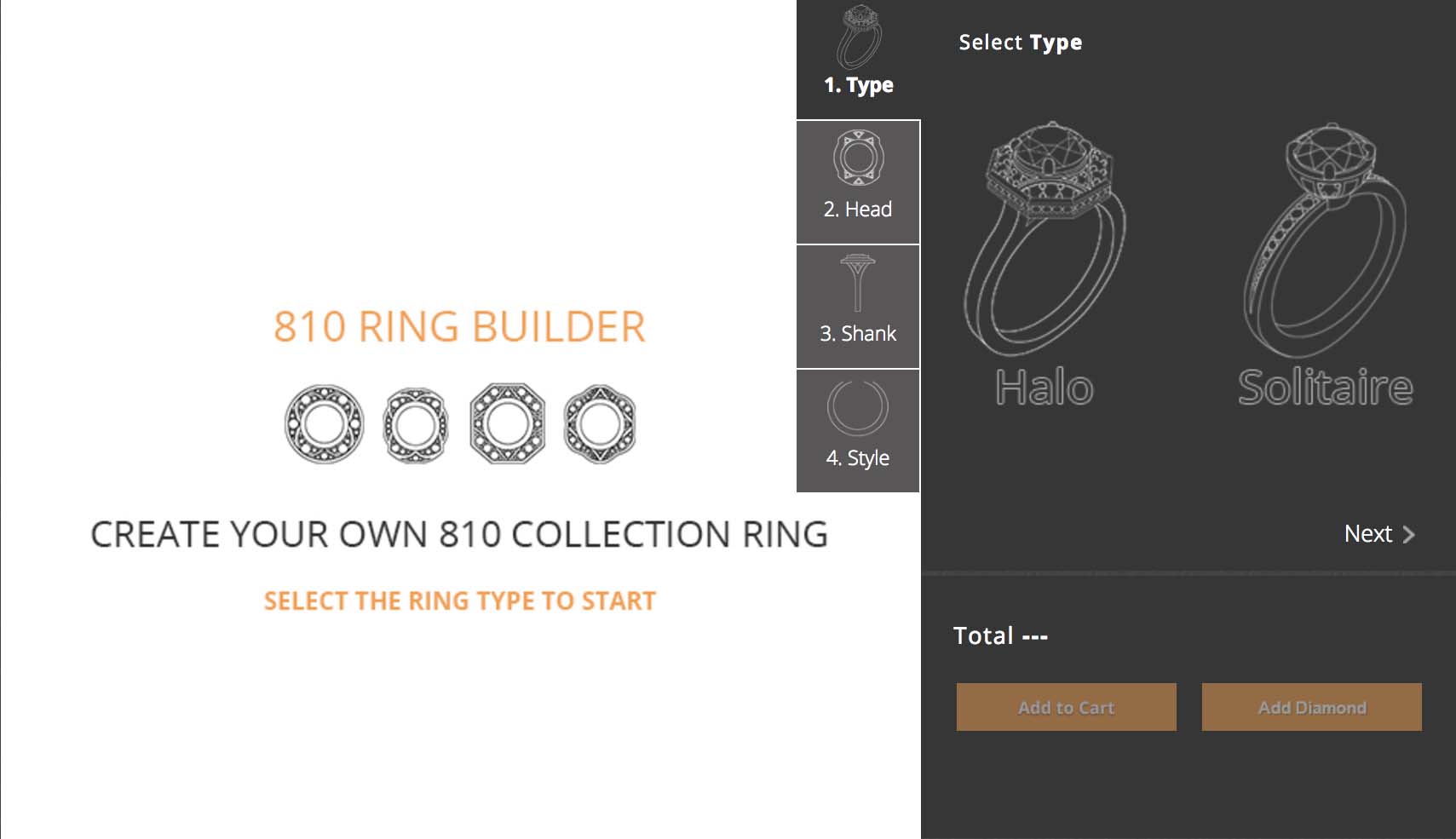 I'm going to assume that the 810 Collection ring builder is open in another tab of your browser. The first step is to choose a ring style.
Select either a Halo or Solitaire ring style by clicking your mouse over the appropriate image on the right side of the builder window. For this example, I chose the halo setting. The left portion of the builder window will reflect the changes you make in real time.
Thus momentarily you will see a halo setting load on the left. You may click the images on the bottom of the window to view the ring from different vantage points. At the same time, you may upload the images to Pinterest if you'd like to share them!
On the other hand, you might click on the image of the Solitaire to see what that looks like. This online ring builder is very intuitive and easy to use, so feel free to play around with it.
[maxbutton id="4″ ]
Step 2 of Using the 810 Collection Ring Builder: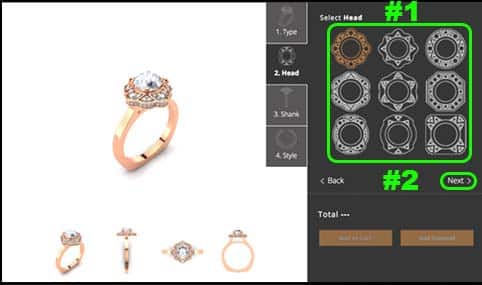 Immediately after clicking on the next button in step one, you'll get the chance to select the head style. Just click your mouse over one of the nine options available. As before, the ring design will update in real time in the window to the left.
Once again, you may click on all nine of the options. That way, you can see what they look like from the four vantage points. This is really exciting because it enables you to see your ring from all vantage points.
Take all the time you need to check out the different halo style head configurations. Then simply click on Next when you're ready to move on to the next stage of development.
[maxbutton id="4″ ]
Step 3 of of the 810 Collection Online Ring Builder: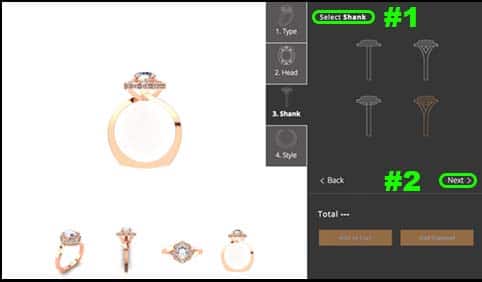 For the third step of designing your custom engagement ring, you're going to choose a ring shank. There are four options available which range in style from simple to elaborate. For the sake of this tutorial, I chose the fancy split-shank design in the lower right hand corner.
Undoubtedly you're going to discover that using this online ring builder is kind of addictive. There are so many possibilities and variables to consider within the 810 Collection.
It's really surprising to me to discover how many different halo and solitaire ring styles I'm able to create simply by changing a few variables. With that in mind, it's totally not my fault if you end up burning the midnight oil playing with this tool.
[maxbutton id="21″ ]
810 Ring Builder – Step 4: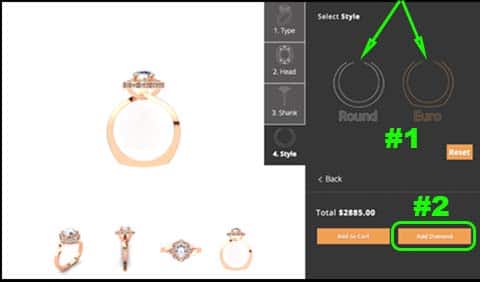 I've got to admit that I failed to guess what Step 4 of the 810 Collection ring builder was going to entail. And yet, it's so obvious in retrospect that I can't believe I didn't think of it. You get to choose the style of ring shank you prefer at the bottom of the ring. Select from a traditional round bottom ring shank, or the trendy Euroshank which is a little more square.
I chose the Euro-shank here simply so that I could provide you with a visual of what one looks like. As you can see the bottom of the ring shank is a little more square.
The inside of the ring hole that your finger slips through is still round in shape. Thus the ring is going to be as comfortable as any other ring. You're just adding a little bit of European flair to your ring design and making it easier to set on a table top. Don't ask me why you might want to do that, I'm just saying that it's possible.
Ring Builder Step 5 – Choosing Your Diamond!
As much fun as it's been playing with the 810 Collection Ring Builder from Brian Gavin, it goes without saying that picking the diamond is my favorite part. After all, I've been a professional diamond buyer for the trade for 30+ years. Which is why you should take advantage of my free Diamond Concierge Service if you want help picking a diamond.
[maxbutton id="3″ ]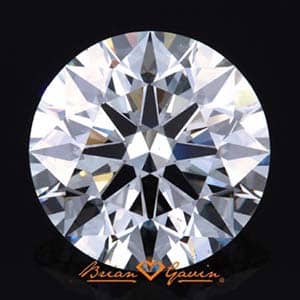 However for the sake of this exercise, we're going to cheat a little bit. We're going to review this 8.10 carat, J-color, VS-2 clarity, Brian Gavin Signature round hearts and arrows diamond. On account of the fact, that it is the inspiration for the Brian Gavin 810 Collection. This is the diamond pictured as the center stone for the first 810 Collection ring featured in the banner. Brian Gavin chose to set the diamond in 18k Rose Gold to accentuate the J-color.
The superior cut quality of the diamond produces a spectacular amount of light return. Which is why this J-color diamond faces-up so white and brilliant in this photograph. The 40.9 degree pavilion angle produces a high volume of light return. While the 34.4 degree crown angle produces a virtual balance of brilliance and dispersion.
The combination of the higher degree of optical precision and lower girdle facet length produces Broad Spectrum Sparkle. That is sparkle that tends to be larger in size, and which is bolder, brighter and more vivid.
To that end, this diamond is an absolute Rock Star! But then again, I've never seen a Brian Gavin Signature round diamond that wasn't. That's one of the things I love about Brian Gavin Diamonds, the production quality is extremely consistent. Which means that you can rest assured that whichever diamond you choose, it's going to be sensational.
[maxbutton id="4″ ]
---
810 Collection by Brian Gavin scores 5 out of 5 stars in this review by Todd Gray
---